Ford Explorer: Accessory Charging / Description and Operation - Wireless Accessory Charging Module (WACM) - Overview
The WACM is a 5 watt wireless power transmitter designed to energize a secondary coil found in a secondary device such as a smartphone or in an added accessory such as a wireless charging phone sleeve. The WACM supports wireless charging of the Wireless Power Consortium's (WPC) Qi (pronounced chee).
The WACM node is powered at all times from a fused battery and performs network management on HS-CAN3. Wireless charging status is provided as a CAN signal on the HS-CAN3.
The BCM provides a protected switch to battery input to the WACM when an interior passive key search is in progress to disable the wireless charging feature. This prevents possible interference with the passive key when placed in close proximity to the WACM during a charge session of a secondary device. A redundant CAN signal is also sent by the BCM in addition to the protected switch to battery input.
System Operation System Diagram Item Description 1 APIM 2 BCM 3 ACM 4 WACM 5 GWM Network Message Chart ..
Other information:
NOTE: Coolant temperature will vary with ambient temperature and load. Temperatures shown are for ambient temperature of 38°C (100°F). Red arrows indicate a temperature over 82.2°C (180°F), Orange arrows indicate a temperature of approximately 82...
Special Tool(s) / General Equipment Air Conditioning Service Unit Air Conditioning Adaptor Kit Inspection Recover the refrigerant. Refer to Air Conditioning (A/C) System Recovery, Evacuation and Charging procedure in Group 412...
Categories
4 Inch Display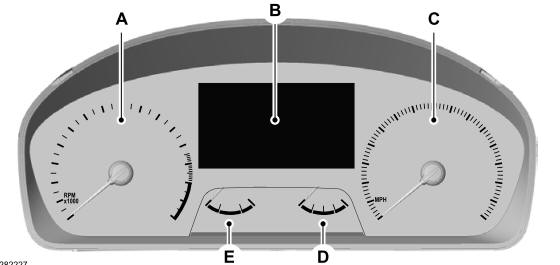 A - Tachometer.
B - Information display.
C - Speedometer.
D - Fuel gauge.
E - Engine coolant temperature gauge.