Ford Explorer: Accessory Charging / Description and Operation - Wireless Accessory Charging Module (WACM) - System Operation and Component Description
System Operation
System Diagram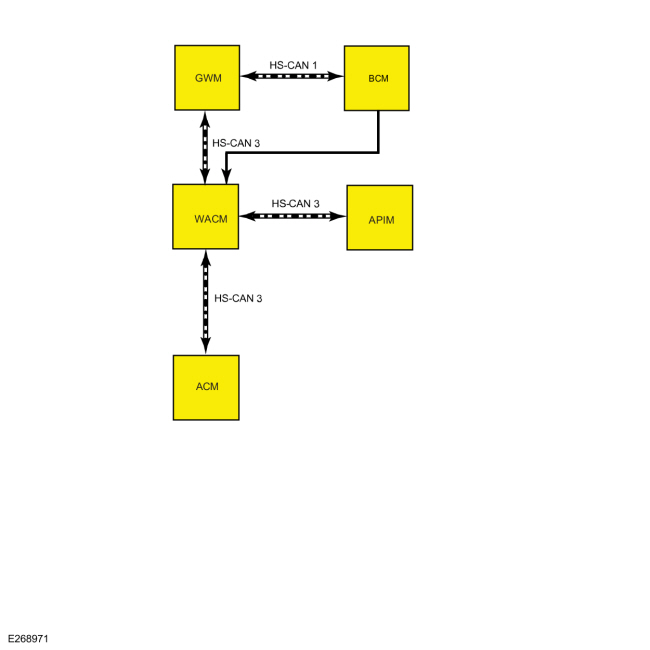 | Item | Description |
| --- | --- |
| 1 | APIM |
| 2 | BCM |
| 3 | ACM |
| 4 | WACM |
| 5 | GWM |
Network Message Chart
APIM Module Network Input Messages
| Broadcast Message | Originating Module | Message Purpose |
| --- | --- | --- |
| WACM send signals | WACM | Contains the status of the WACM charging input to be used for FCIM display. |
WACM Module Network Input Messages
| Broadcast Message | Originating Module | Message Purpose |
| --- | --- | --- |
| ACU_Response_Signals | ACM | Used by the WACM to determine if the AM/FM radio is in use to perform AM avoidance when the tuned band is AM. |
| ACU_Send_Signals_13 | ACM | Determines if AM is the tuned band and if a seek/scan is taking place to perform AM avoidance. |
| ACU_Send_Signals | ACM | Used by the WACM to determine if the tuned AM frequency requires AM avoidance. |
| BCM_Lamp_Stat_HS3 | GWM | Used as a redundant signal from the BCM to disable the charging feature during an interior passive key query. |
| BodyInfo_HS3 | GWM | Determines the ignition status to enable/disable the charging feature. |
| VehicleOperatingModes_HS3 | GWM | Determines the engine crank status for starting / stopping continuous DTC logging. |
| HMI_Send_Signals_7 | APIM | Determines the infotainment system status to enable / disable the charging feature. |
System Logic
The WACM directly sends a charge status message over the HS-CAN3 to the APIM. The APIM receives a status signal from the WACM and displays the following status messages in the FCIM: ChargeNotInProgress, ChargeInProgress, Metal ObjectDetected.
Component Description
Body Control Module (BCM)
The BCM provides the WACM with signals to determine when to enable charging. For example, Ignition_Status and Delay Accy are used to enable wireless charging as a controller of the charge request. Another function of the BCM is to tell the WACM when an interior key fob search is about to take place. The BCM utilizes a Field-Effect Transistor (FET) to short the line the WACM receives from the BCM to vehicle battery. When this occurs, the WACM disables the charging function to make sure it does not interfere with key fob searches.
Wireless Accessory Charging Module (WACM)
The WACM is a 5 watt wireless power transmitter used to inductively charge a single Qi (chee) compatible mobile device. Some devices feature built-in wireless charging capability, while other devices require a separate compatible case or back cover to support wireless charging. A list of compatible devices can be found at https://owner.ford.com/WirelessPhoneCharging. If a customer's device is not on the list, they should check with their phone manufacturer to determine if it supports wireless charging. Not all phones are compatible with wireless charging.
The WACM is powered at all times, using the vehicle's battery. The WACM receives signals from the BCM ( CAN signals and a hardwire) to indicate when an interior key search is performed, which the WACM responds by disabling charge briefly, and resuming charge after the event ends. The hardwire is a controlled FET that shorts to battery before and during the key search.
The WACM also receives signals from the radio, so it knows when to shift frequency to avoid interfering with the AM radio.
The WACM sends signals to sync to display charging status updates such as wireless charger active and foreign/metal object detected, to the user.
The WACM features foreign object detection that detects when foreign objects (metals and non-metals) are placed between the device and the charging surface. When this is detected, the FCIM displays a message until the condition is corrected. For additional tips on how to effectively use the wireless charger, refer to https://owner.ford.com/WirelessPhoneCharging.
The WACM is a 5 watt wireless power transmitter designed to energize a secondary coil found in a secondary device such as a smartphone or in an added accessory such as a wireless charging phone sle..
Diagnostic Trouble Code (DTC) Chart Diagnostics in this manual assume a certain skill level and knowledge of Ford-specific diagnostic practices. REFER to: Diagnostic Methods (100-00 General Informati..
Other information:
Removal NOTE: Removal steps in this procedure may contain installation details. Remove the EVAP canister vent solenoid. Refer to: Evaporative Emission Canister Vent Solenoid (303-13A Evaporative Emissions - 2.3L EcoBoost (201kW/273PS), Removal and Installation)...
Special Tool(s) / General Equipment Resistance Spotwelding Equipment Scraper for Straight Edges Hot Air Gun 8 mm Drill Bit MIG/MAG Welding Equipment Spot Weld Drill Bit Locking Pliers Materials Name Specification Seam SealerTA-2-B, 3M™ 08308, LORD Fusor® 805DTM - Flexible Foam Repair3M™ 08463, LORD Fusor® 121 - Remo..