Ford Explorer: Electronic Engine Controls - 2.3L EcoBoost (201kW/273PS) / Removal and Installation - Cylinder Head Temperature 2 (CHT2) Sensor
Materials
Name
Specification
Motorcraft® Silicone Brake Caliper Grease and Dielectric Compound
XG-3-A
ESE-M1C171-A

Removal
NOTICE: Do not pull the engine appearance cover forward or sideways to remove. Failure to press straight upward on the underside of the cover at the attachment points may result in damage to the cover or engine components.

Remove the engine appearance cover nut.


Place your hand under the engine appearance cover at each grommet location and pull straight up to release each grommet from the studs.


After all of the grommets have been released from the studs, remove the appearance cover from the engine.

Position aside the CHT 2 (CHT2) sensor cover. Disconnect the electrical connector.

Remove the cylinder head temperature 2 (CHT2) sensor and heat shield.
Torque: 97 lb.in (11 Nm)
Installation
To install, reverse the removal procedure.

NOTE: Lubricating the grommets with silicone grease will aid in the installation of the engine appearance cover, and any future removal and installation of the cover.

Lubricate each grommet with silicone grease.
Material: Motorcraft® Silicone Brake Caliper Grease and Dielectric Compound / XG-3-A (ESE-M1C171-A)

Position the engine appearance cover onto engine with the grommets aligned with the studs.


Press down on the engine appearance cover at each grommet location to attach the grommets onto the studs.


Install the engine appearance cover nut.
Torque: 44 lb.in (5 Nm)

If the engine appearance cover stud bolt is loosened or removed, it must be installed/tightened into the valve cover.
Torque: 62 lb.in (7 Nm)
Special Tool(s) / General Equipment 303-1521Alignment Tool, Crankshaft Position SensorTKIT-2010C-FLM 303-507Timing Peg, Crankshaft TDCTKIT-2001N-FLMTKIT-2001N-ROW Removal NOTICE..
Removal NOTE: Removal steps in this procedure may contain installation details. Remove the EGR cooler. Refer to: Exhaust Gas Recirculation (EGR) Cooler (303-08A Engine Emission Control ..
Other information:
1 If a Motorcraft oil filter is not available, use an oil filter that meets industry performance specification SAE/USCAR-36. 2 See your authorized dealer for correct replacement. 3 For spark plug replacement, contact your authorized dealer. Replace the spark plugs at the appropriate intervals...
..
Categories

Push the lever up or down to operate the windshield wipers.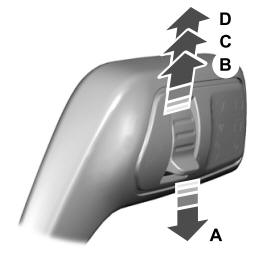 A - Single wipe.