Ford Explorer: Wipers and Washers / Windshield Wipers

Push the lever up or down to operate the windshield wipers.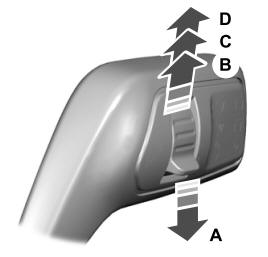 A - Single wipe.
B - Intermittent wipe.
C - Normal wipe.
D - High-speed wipe.
Note: Fully defrost the windshield before you switch the windshield wipers on.
Note: Make sure that you switch the windshield wipers off before entering a car wash.
Note: If streaks or smears appear on the windshield, clean the windshield and the wiper blades. If that does not resolve the issue, install new wiper blades.
Note: Do not operate the wipers on a dry windshield. This may scratch the glass, damage the wiper blades or cause the wiper motor to burn out. Always use the windshield washers before wiping a dry windshield.
Intermittent Wipe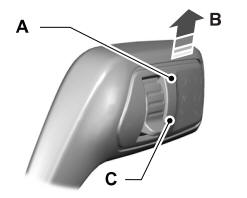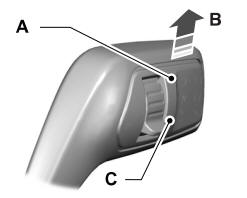 A - Shortest wipe interval.
B - Intermittent wipe.
C - Longest wipe interval.
Use the rotary control to adjust the intermittent wipe interval.
Speed Dependent Wipers
When your vehicle speed increases, the interval between wipes decreases.
Wet or winter driving conditions with ice, snow or salty road mist can cause inconsistent and unexpected wiping or smearing. A - High sensitivity...
Other information:
Front Seats WARNING: Use caution when using the heated seat if you are unable to feel pain to your skin because of advanced age, chronic illness, diabetes, spinal cord injury, medication, alcohol use, exhaustion or other physical conditions. The heated seat could cause burns even at low temperatures, especially if used for long periods of time...
Removal NOTE: Removal steps in this procedure may contain installation details. Disconnect the EGR coolant outlet temperature sensor electrical connector. Remove the EGR coolant outlet temperature sensor...