Ford Explorer: Wipers and Washers / Windshield Wipers

Push the lever up or down to operate the windshield wipers.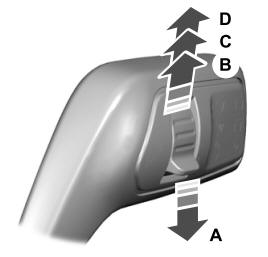 A - Single wipe.
B - Intermittent wipe.
C - Normal wipe.
D - High-speed wipe.
Note: Fully defrost the windshield before you switch the windshield wipers on.
Note: Make sure that you switch the windshield wipers off before entering a car wash.
Note: If streaks or smears appear on the windshield, clean the windshield and the wiper blades. If that does not resolve the issue, install new wiper blades.
Note: Do not operate the wipers on a dry windshield. This may scratch the glass, damage the wiper blades or cause the wiper motor to burn out. Always use the windshield washers before wiping a dry windshield.
Intermittent Wipe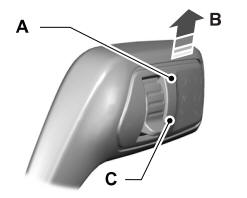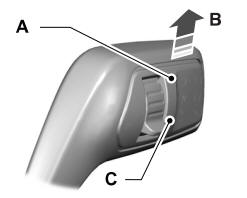 A - Shortest wipe interval.
B - Intermittent wipe.
C - Longest wipe interval.
Use the rotary control to adjust the intermittent wipe interval.
Speed Dependent Wipers
When your vehicle speed increases, the interval between wipes decreases.
Wet or winter driving conditions with ice, snow or salty road mist can cause inconsistent and unexpected wiping or smearing. A - High sensitivity...
Other information:
A - Battery. See Changing the 12V Battery. B - Engine oil filler cap. See Engine Oil Check. C - Engine oil dipstick. See Engine Oil Dipstick. D - Brake fluid reservoir. See Brake Fluid Check. E - Engine compartment fuse box. See Fuses. F - Engine coolant reservoir...
If you plan on storing your vehicle for 30 days or more, read the following maintenance recommendations to make sure your vehicle stays in good operating condition. We engineer and test all motor vehicles and their components for reliable, regular driving...