Ford Explorer: Pedestrian Alert System / Description and Operation - Pedestrian Alert System - System Operation and Component Description
System Operation
System Diagram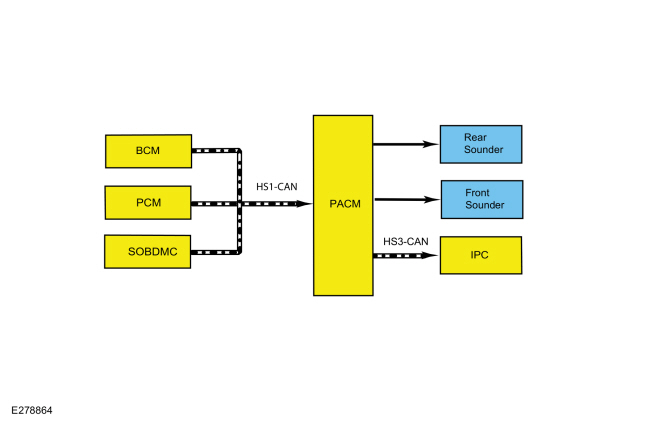 | Item | Description |
| --- | --- |
| 1 | PACM |
| 2 | PCM |
| 3 | IPC |
| 4 | Rear sounder |
| 5 | BCM |
| 6 | SOBDMC |
| 7 | Front sounder |
Network Message Charts
Module Network Input Messages - PACM
| Broadcast Message | Originating Module | Message Purpose |
| --- | --- | --- |
| Factory mode | BCM | Controls the pedestrian alert system based on the vehicle build status set in factory mode. |
| Ignition status | BCM | Ignition RUN, START and accessory states required for the PACM operating modes and fault reporting. |
| Power pack status | SOBDMC | Determines the HEV operational state. |
| Reverse gear state | PCM | Determines reverse gear state. |
| Transport mode | BCM | Controls the pedestrian alert system based on the vehicle build status set in transport mode. |
| Vehicle speed | PCM | Engages the sounder between 0-30 km/h (0-8 mph). |
Module Network Input Messages - IPC
| Broadcast Message | Originating Module | Message Purpose |
| --- | --- | --- |
| Pedestrian alert fault | PACM | Displays the pedestrian sounder fault warning message. |
Pedestrian Alert System
The pedestrian alert system provides an audible alert when the vehicle is moving in forward or reverse between 0-30 km/h (0-8 mph). The PACM receives all network messages required to operate the system over the HS-CAN1.
In the event of a system fault, the IPC message center displays the Pedestrian Alert Fault Service Now warning message in the message center. The IPC receives the pedestrian alert fault message from the GWM over the HS-CAN3. The GWM receives the pedestrain alert fault message from the PACM over the HS-CAN1.
Component Description
PACM
The PACM controls the pedestrian alert system and is capable of setting Diagnostic Trouble Codes (DTCs) when a fault condition is detected. The PACM requires PMI when replaced.
Overview Due to the quiet nature of vehicles operating in electric mode, pedestrians may not be aware of the presence and operation of the vehicle, creating a risk for injury...
Diagnostic Trouble Code (DTC) Chart Diagnostics in this manual assume a certain skill level and knowledge of Ford-specific diagnostic practices. REFER to: Diagnostic Methods (100-00 General Informati..
Other information:
B..
Removal NOTE: Removal steps in this procedure may contain installation details. Remove the brake disc. Refer to: Brake Disc (206-03 Front Disc Brake, Removal and Installation). Remove the 3 bolts and the brake disc shield...
Categories
When these locks are set, you cannot open the rear doors from the inside.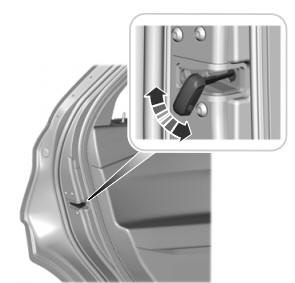 A child safety lock is on the rear edge of each rear door. You must set the child safety lock separately on each door.
Left-Hand Side