Ford Explorer: Voltage Converter/Inverter / Description and Operation - Direct Current/Direct Current (DC/DC) Converter Control Module - Overview
OVERVIEW

WARNING: To prevent the risk of high-voltage shock, always follow precisely all warnings and service instructions, including instructions to depower the system. The high-voltage hybrid system utilizes approximately 300 volts DC, provided through high-voltage cables to its components and modules. The high-voltage cables and wiring are identified by orange harness tape or orange wire covering. All high-voltage components are marked with high-voltage warning labels with a high-voltage symbol. Failure to follow these instructions may result in serious personal injury or death.
The DCDC is a liquid cooled component that converts high-voltage DC power from the high voltage battery to low-voltage (12 volts) DC power. The DCDC charges the 12-volt battery through the low-voltage battery cables and powers the low-voltage electrical system, this eliminates the need for a conventional engine-driven alternator. The DCDC communicates with other modules over the HS-CAN1. The DCDC is serviceable and located in the engine compartment under the RH headlamp assembly.
System Operation System Diagram - DCDC Item Description 1 Ignition Switch 2 PCM 3 SOBDMC 4 BCM 5 BECM 6 DCDC 7 High V..
Other information:
Overview The diagnostic process for each transmission concern will vary depending on the symptoms and condition of the vehicle. The diagnostic process below is an efficient method to collect as much data as possible about the concern before performing a repair or removing the transmission from the vehicle for teardown and further inspection...
WARNING: Do not overfill the fuel tank. The pressure in an overfilled tank may cause leakage and lead to fuel spray and fire. WARNING: Do not pry open the fuel tank filler valve. This could damage the fuel system. Failure to follow this instruction could result in fire, personal injury or death...
Categories

Push the lever up or down to operate the windshield wipers.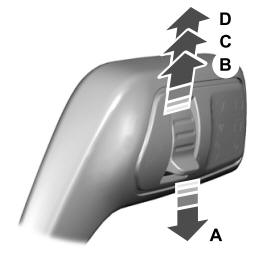 A - Single wipe.