Ford Explorer: Multifunction Electronic Modules / General Procedures - Transport Mode Deactivation
Deactivation
NOTE: After vehicle build, some vehicle modules are set in Transport mode including the IPC and the BCM. Transport mode reduces battery drain during longer periods where the vehicle is not used. While in transport mode, the IPC displays TRANSPORT MODE CONTACT DEALER in the message center. Various systems may be altered or are disabled when in the transport mode. The vehicle automatically reverts to normal operation mode after being driven 201 km (125 mi). The vehicle can be manually taken out of Transport mode using this procedure.
If the IPC displays FACTORY MODE CONTACT DEALER in the message center the vehicle is set in factory mode. The system
does not
automatically revert to another mode and must be manually set to either the transport or normal operation mode. Refer to the
Factory Mode Deactivation
procedure in this section.
WARNING: Before beginning any service procedure in this section, refer to Safety Warnings in section 100-00 General Information. Failure to follow this instruction may result in serious personal injury.

Place the ignition in the OFF position.

Verify the battery is fully charged.
Refer to: Battery Charging (414-01 Battery, Mounting and Cables, General Procedures).

Place the ignition in the ON position.

NOTE: Steps 4 and 5 must be carried out within 10 seconds.

Press and release the brake pedal 5 times.

NOTE: The IPC message center indicates NORMAL MODE when the procedure has been successfully completed.

Press and release the hazard switch 2 times.

Start the engine.

Place the ignition in the OFF position.

Verify the RKE works correctly.

Deactivation NOTE: During vehicle build, some modules, such as the IPC and BCM module are set in factory mode. Factory mode reduces the drain on the battery during longer periods where the vehi..
Removal NOTE: Removal steps in this procedure may contain installation details. If installing a new BCM, connect a battery charger to the battery to make sure it is charged to maintain pro..
Other information:
Switching the System On and Off Switch the system on or off using the touchscreen. See Settings. When active, the system monitors your alertness level based upon your driving behavior in relation to the lane markings, and other factors. System Warnings Note: The system does not issue warnings below approximately 40 mph (64 km/h)...
Special Tool(s) / General Equipment Resistance Spotwelding Equipment 8 mm Drill Bit MIG/MAG Welding Equipment Spot Weld Drill Bit Locking Pliers Materials Name Specification Seam SealerTA-2-B, 3M™ 08308, LORD Fusor® 805DTM - Removal WARNING: Electric vehicles damaged by a crash may have compromised high voltage safety systems and..
Categories
4 Inch Display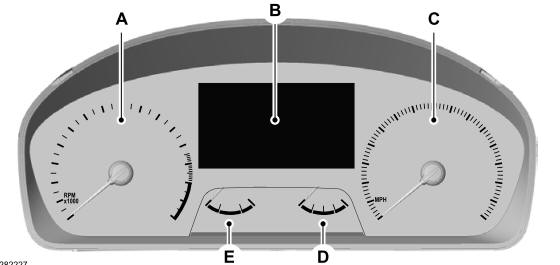 A - Tachometer.
B - Information display.
C - Speedometer.
D - Fuel gauge.
E - Engine coolant temperature gauge.