Ford Explorer: Lighting / Daytime Running Lamps - Vehicles With: Configurable Daytime Running Lamps
WARNING: The daytime running lamps system does not activate the rear lamps and may not provide adequate lighting during low visibility driving conditions. Make sure you switch the headlamps on, as appropriate, during all low visibility conditions. Failure to do so may result in a crash.
Switch the daytime running lamps on or off using the touchscreen:
Select Settings. See Settings.
Select Vehicle.
Select Lighting.
The daytime running lamps turn on when:
The lamps are on in the information display.
You switch the ignition on.
The transmission is not in park (P) for vehicles with automatic transmissions or you release the parking brake for vehicles with manual transmissions.
The lighting control is in the autolamps position.
The headlamps are off.
The other lighting control switch positions do not turn on the daytime running lamps.
If the daytime running lamps are off in the information display, the lamps stay off in all switch positions.
Categories

Push the lever up or down to operate the windshield wipers.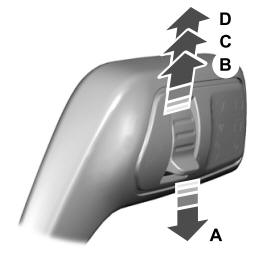 A - Single wipe.