Ford Explorer: Accessories
For a complete listing of the accessories that are available for your vehicle, please contact your authorized dealer or visit the online store web site:
Web Address (United States)
Web Address (Canada)
We will repair or replace any properly authorized dealer-installed Ford Original Accessory found to be defective in factory-supplied materials or workmanship during the warranty period, as well as any component damaged by the defective accessories.
We will warrant your Ford Original Accessory through the warranty that provides the greatest benefit:
24 months, unlimited mileage.
The remainder of your new vehicle limited warranty.
Contact an authorized dealer for details and a copy of the warranty.
*Ford Licensed Accessories. The accessory manufacturer designs, develops and therefore warrants Ford Licensed Accessories, and does not design or test these accessories to Ford Motor Company engineering requirements. Contact an authorized Ford dealer for the manufacturer's limited warranty details, and request a copy of the Ford Licensed Accessories product limited warranty from the accessory manufacturer.
For maximum vehicle performance, keep the following information in mind when adding accessories or equipment to your vehicle:
When adding accessories, equipment, passengers and luggage to your vehicle, do not exceed the total weight capacity of the vehicle or of the front or rear axle (GVWR or GAWR as indicated on the Safety Compliance Certification label). Ask an authorized dealer for specific weight information.
The Federal Communications Commission (FCC) and Canadian Radio Telecommunications Commission (CRTC) regulate the use of mobile communications systems that are equipped with radio transmitters, for example two-way radios, telephones and theft alarms. Any such equipment installed in your vehicle should comply with Federal Communications Commission (FCC) and Canadian Radio Telecommunications Commission (CRTC) regulations and should be installed only by an authorized dealer.
An authorized dealer needs to install mobile communications systems. Improper installation may harm the operation of your vehicle, particularly if the manufacturer did not design the mobile communication system specifically for automotive use.
If you or an authorized Ford dealer add any non-Ford electrical or electronic accessories or components to your vehicle, you may adversely affect battery performance and durability. In addition, you may also adversely affect the performance of other electrical systems in the vehicle.
Voice Recognition USB and Bluetooth Audio Phone Navigation (If Equipped) Apps Wi-Fi Connectivity Personal Profiles (If Equipped) Resetting the System Simultaneou..
PROTECT YOURSELF FROM THE RISING COST OF VEHICLE REPAIRS WITH A FORD PROTECT EXTENDED SERVICE PLAN. Ford Protect Extended Service Plans (U.S. Only) Ford Protect extended service plan means peace o..
Other information:
Check Functional Test - Seatbelt Buckle and Tongue WARNING: All seatbelt components must be inspected and corrected as part of any collision repair. Inspect all seatbelt components as prescribed by Seatbelt Procedure After a Collision found in Section 501-20A General Procedures of this manual...
Overview Exterior, Power This vehicle is equipped with LH and RH power mirrors. The power mirror system allows the exterior mirror glass to be positioned electronically. Exterior, Heated This vehicle may be equipped with LH and RH heated mirror glass and with a LH and RH heated spotter glass...
Categories
When these locks are set, you cannot open the rear doors from the inside.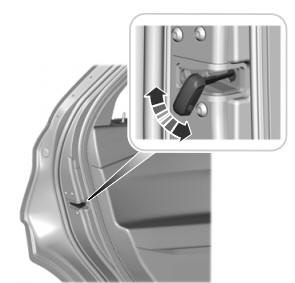 A child safety lock is on the rear edge of each rear door. You must set the child safety lock separately on each door.
Left-Hand Side