Ford Explorer: Capacities and Specifications / Vehicle Identification Number & Vehicle Certification Label
Vehicle Identification Number
The vehicle identification number is on the left-hand side of the instrument panel.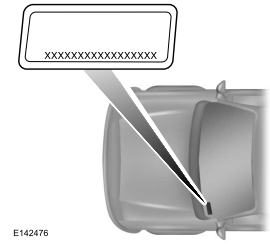 Please note that in the graphic, XXXX is representative of your vehicle identification number.
The Vehicle Identification Number contains the following information: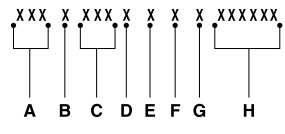 A - World manufacturer identifier.
B - Brake system, Gross Vehicle Weight Rating, Restraint Devices and their locations.
C - Make, vehicle line, series, body type.
D - Engine type.
E - Check digit.
F - Model year.
G - Assembly plant.
Production sequence number.
Vehicle Certification Label
The National Highway Traffic Safety Administration Regulations require that a Safety Compliance Certification Label be affixed to a vehicle and prescribe where the Safety Compliance Certification Label may be located. The Safety Compliance Certification Label shall be affixed to either the door hinge pillar, the door latch post, or the edge of the door near the door latch, next to the driver's seating position.
Categories
You can use the power door lock control or the remote control to lock and unlock your vehicle.
Power Door Locks
The power door lock control is on the driver and front passenger door panels.