Ford Explorer: Climate Control System - General Information / Description and Operation - Climate Control System - Component Location
Instrument panel
| Item | Description |
| --- | --- |
| 1 | Sunload sensor |
| 2 | In-vehicle temperature & humidity sensor |
| 3 | Center registers |
| 4 | Passenger side register |
| 5 | Cabin air filter |
| 6 | Passenger side register air discharge temperature sensor |
| 7 | HVAC control module |
| 8 | Climate control housing |
| 9 | Driver side register |
| 10 | Driver side register air discharge temperature sensor |
Climate control housing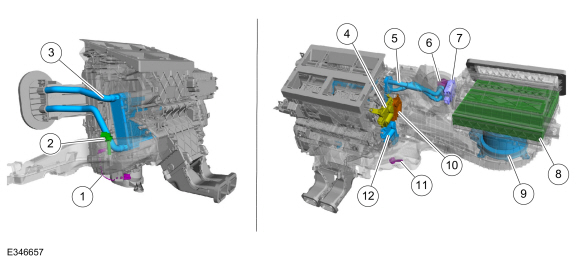 | Item | Description |
| --- | --- |
| 1 | Evaporator temperature sensor |
| 2 | Driver side footwell air discharge temperature sensor |
| 3 | Heater core |
| 4 | Air distribution door actuator |
| 5 | Evaporator |
| 6 | Thermostatic expansion valve |
| 7 | Air inlet door actuator |
| 8 | Cabin air filter |
| 9 | Blower motor control module |
| 10 | Driver temperature door actuator |
| 11 | Passenger side footwell air discharge temperature sensor |
| 12 | Passenger temperature door actuator |
Gas engine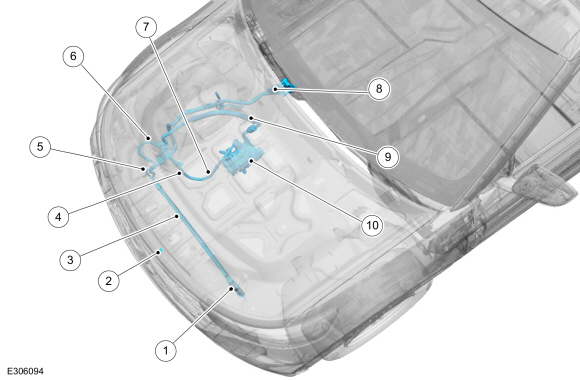 | Item | Description |
| --- | --- |
| 1 | Desiccant bag |
| 2 | Ambient air temperature sensor |
| 3 | A/C condensor |
| 4 | A/C compressor inlet line |
| 5 | A/C condenser outlet line |
| 6 | A/C condenser inlet line |
| 7 | A/C pressure transducer |
| 8 | Thermostatic expansion valve (TXV) manifold and tube assembly |
| 9 | A/C compressor outlet line |
| 10 | A/C compressor |
Hybrid engine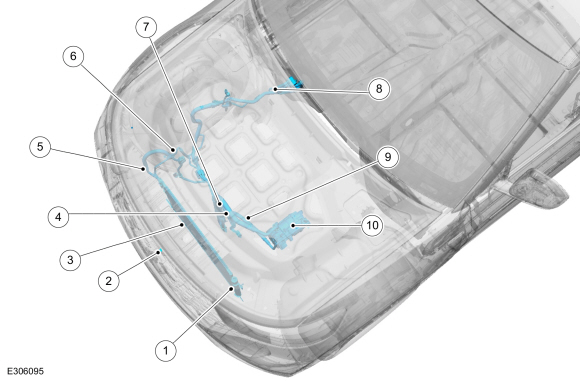 | Item | Description |
| --- | --- |
| 1 | Desiccant bag |
| 2 | Ambient air temperature sensor |
| 3 | A/C condensor |
| 4 | A/C compressor inlet line |
| 5 | A/C condenser outlet line |
| 6 | A/C condenser inlet line |
| 7 | A/C pressure transducer |
| 8 | Thermostatic expansion valve (TXV) manifold and tube assembly |
| 9 | A/C compressor outlet line |
| 10 | A/C compressor |
Lubricants, Fluids, Sealers and Adhesives NOTE: Per the warranty and policy manual the Ford Engineering-approved refrigerant (see table for service part number) must be used for air c..
Vehicles with: Dual Automatic Temperature Control (DATC) Overview The DATC system maintains the selected vehicle interior temperature by heating and/or cooling the air depending on the HVAC control ..
Other information:
Diagnostic Trouble Code (DTC) Chart Diagnostics in this manual assume a certain skill level and knowledge of Ford-specific diagnostic practices. REFER to: Diagnostic Methods (100-00 General Information, Description and Operation). Diagnostic Trouble Code Chart Module DTC Description Action DDM B1C03:2..
Removal WARNING: Front seat backrest trim covers installed on seats equipped with seat side airbags cannot be repaired. A new trim cover must be installed. Cleaning is permissible. Failure to follow these instructions may result in the seat side airbag deploying incorrectly and increase the risk of serious personal injury or death in a crash...
Categories
Note: You may not be able to shift out of park (P) unless the intelligent access key is inside your vehicle.