Ford Explorer: Climate Control System - General Information / Description and Operation - Climate Control System - Component Location
Instrument panel
| Item | Description |
| --- | --- |
| 1 | Sunload sensor |
| 2 | In-vehicle temperature & humidity sensor |
| 3 | Center registers |
| 4 | Passenger side register |
| 5 | Cabin air filter |
| 6 | Passenger side register air discharge temperature sensor |
| 7 | HVAC control module |
| 8 | Climate control housing |
| 9 | Driver side register |
| 10 | Driver side register air discharge temperature sensor |
Climate control housing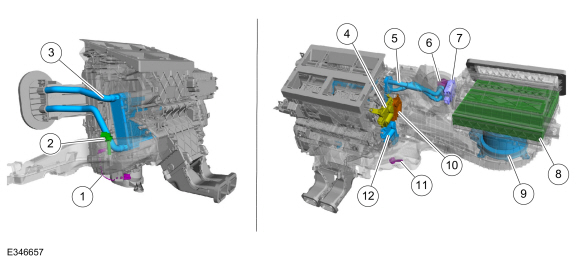 | Item | Description |
| --- | --- |
| 1 | Evaporator temperature sensor |
| 2 | Driver side footwell air discharge temperature sensor |
| 3 | Heater core |
| 4 | Air distribution door actuator |
| 5 | Evaporator |
| 6 | Thermostatic expansion valve |
| 7 | Air inlet door actuator |
| 8 | Cabin air filter |
| 9 | Blower motor control module |
| 10 | Driver temperature door actuator |
| 11 | Passenger side footwell air discharge temperature sensor |
| 12 | Passenger temperature door actuator |
Gas engine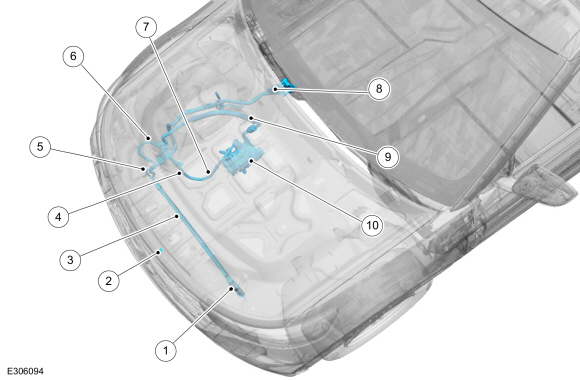 | Item | Description |
| --- | --- |
| 1 | Desiccant bag |
| 2 | Ambient air temperature sensor |
| 3 | A/C condensor |
| 4 | A/C compressor inlet line |
| 5 | A/C condenser outlet line |
| 6 | A/C condenser inlet line |
| 7 | A/C pressure transducer |
| 8 | Thermostatic expansion valve (TXV) manifold and tube assembly |
| 9 | A/C compressor outlet line |
| 10 | A/C compressor |
Hybrid engine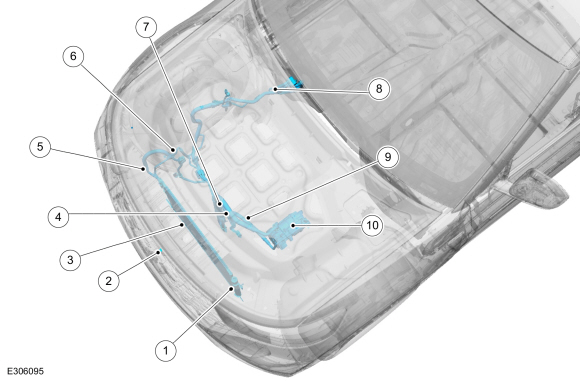 | Item | Description |
| --- | --- |
| 1 | Desiccant bag |
| 2 | Ambient air temperature sensor |
| 3 | A/C condensor |
| 4 | A/C compressor inlet line |
| 5 | A/C condenser outlet line |
| 6 | A/C condenser inlet line |
| 7 | A/C pressure transducer |
| 8 | Thermostatic expansion valve (TXV) manifold and tube assembly |
| 9 | A/C compressor outlet line |
| 10 | A/C compressor |
Lubricants, Fluids, Sealers and Adhesives NOTE: Per the warranty and policy manual the Ford Engineering-approved refrigerant (see table for service part number) must be used for air c..
Vehicles with: Dual Automatic Temperature Control (DATC) Overview The DATC system maintains the selected vehicle interior temperature by heating and/or cooling the air depending on the HVAC control ..
Other information:
This system provides an improved overall level of frontal crash protection to front seat occupants and is designed to help further reduce the risk of airbag-related injuries. The system analyzes different occupant conditions and crash severity before activating the appropriate safety devices to help better protect occupants in a variety of frontal crash situations...
Inspection NOTE: Procedure 1 — Ambient Temperature below 21 °C (70 °F). NOTE: Proper A/C system diagnosis on a vehicle's compressor is dependent on correct refrigerant system charge and tested in ambient temperatures above 21°C (70°F)...
Categories
Note: You may not be able to shift out of park (P) unless the intelligent access key is inside your vehicle.