Ford Explorer: Adaptive Cruise Control / Switching From Adaptive Cruise Control to Cruise Control
WARNING: Normal cruise control will not brake when your vehicle is approaching slower vehicles. Always be aware of which mode you have selected and apply the brakes when necessary.
Use the touchscreen to select the following:
Select Settings. See Settings.
Select Driver Assist..
Select Cruise Control.

The cruise control indicator replaces the adaptive cruise control indicator if you select normal cruise control. The gap setting does not display, and the system does not respond to lead vehicles. Automatic braking remains active to maintain set speed. The system remembers the last setting when you start your vehicle.
A bracket appears around the set speed and the detected speed limit sign in the information display. System Warnings If the set speed is increased beyond the speed limit or speed limit plus a po..
The cruise controls are on the steering wheel. See Cruise Control. Press the button. The indicator appears in the information display. When the system is on, the color of the indicator changes to..
Other information:
System Operation Emergency Locking Retractor (ELR) All retractors have an Emergency Locking Retractor (ELR) mode, which is a vehicle-sensitive feature designed to activate and lock the seatbelt webbing during hard braking, cornering, or an impact of approximately 24 km/h (15 mph)...
..
Categories
4 Inch Display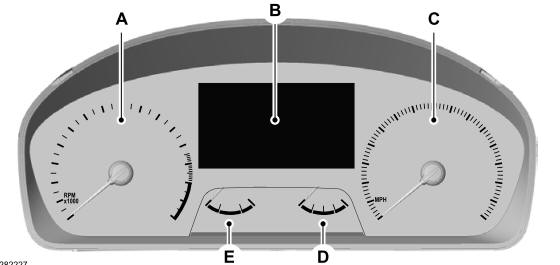 A - Tachometer.
B - Information display.
C - Speedometer.
D - Fuel gauge.
E - Engine coolant temperature gauge.