Ford Explorer: Engine - 2.3L EcoBoost (201kW/273PS) / Description and Operation - Engine Component View
Engine — External Components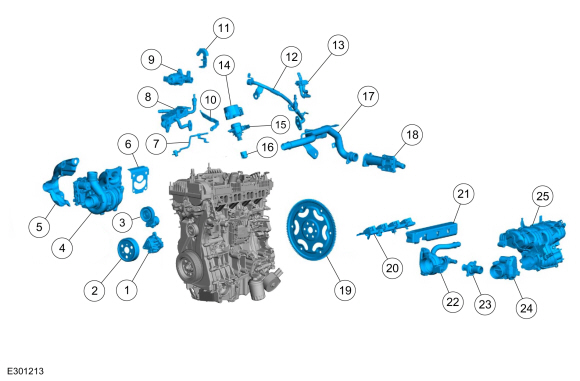 | Item | Part Number | Description |
| --- | --- | --- |
| 1 | 85018501 | Coolant pump |
| 2 | 85098509 | Coolant pump pulley |
| 3 | 6A2286A228 | Accessory drive belt tensioner |
| 4 | 9G4389G438 | Turbocharger |
| 5 | 9G4799G479 | Turbocharger heat shield |
| 6 | 94489448 | Turbocharger gasket |
| 7 | 8B5358B535 | Coolant outlet tube |
| 8 | 9F4649F464 | Exhaust gas recirculation (EGR) cooler |
| 9 | 9D4759D475 | EGR valve |
| 10 | 9F4659F465 | EGR cooler bracket |
| 11 | 9D4849D484 | EGR valve bracket |
| 12 | 9E4699E469 | EGR inlet tube |
| 13 | 9J4339J433 | EGR transducer |
| 14 | 9C3749C374 | High-pressure fuel pump cover |
| 15 | 9D3769D376 | High-pressure fuel pump |
| 16 | 9C5879C587 | High-pressure fuel pump tappet |
| 17 | 85948594 | Coolant tube |
| 18 | 8K5568K556 | Coolant outlet |
| 19 | 63756375 | Flexplate |
| 20 | 9F7979F797 | Fuel rail |
| 21 | 9U5509U550 | Fuel rail shield |
| 22 | 8C5018C501 | Coolant pump adapter |
| 23 | 85758575 | Thermostat assembly |
| 24 | 9E9269E926 | Throttle body |
| 25 | 94249424 | Intake manifold |
Engine — Front and Upper Components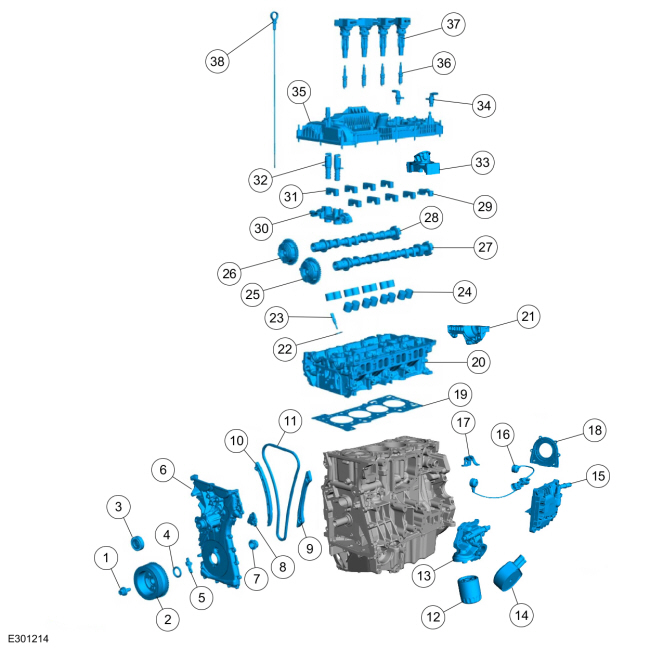 | Item | Part Number | Description |
| --- | --- | --- |
| 1 | 6K3406K340 | Crankshaft pulley bolt |
| 2 | 63166316 | Crankshaft damper |
| 3 | 19A21619A216 | Accessory drive belt idler pulley |
| 4 | 67006700 | Crankshaft front seal |
| 5 | 6C3156C315 | Crankshaft Position (CKP) sensor |
| 6 | 60196019 | Engine front cover |
| 7 | 63066306 | Crankshaft sprocket |
| 8 | 6K2546K254 | Timing chain tensioner |
| 9 | 6K2976K297 | Timing chain guide |
| 10 | 6K2556K255 | Timing chain tensioner arm |
| 11 | 62686268 | Timing chain |
| 12 | 67146714 | Oil filter |
| 13 | 68816881 | Oil filter adapter |
| 14 | 6A6426A642 | Oil cooler, if equipped |
| 15 | 6A7856A785 | Crankcase vent oil separator |
| 16 | 12A69912A699 | Knock sensor (KS) (2 required) |
| 17 | 8K5748K574 | Coolant hose bracket |
| 18 | 6K3186K318 | Crankshaft rear oil seal |
| 19 | 60516051 | Head gasket |
| 20 | 60496049 | Cylinder head |
| 21 | 6P0366P036 | Cylinder head cover assembly |
| 22 | 9A4629A462 | Cylinder head temperature (CHT) sensor heat shield |
| 23 | 6G0046G004 | CHT sensor |
| 24 | 65006500 | Valve tappet (16 required) |
| 25 | 6C5246C524 | Intake variable camshaft timing (VCT) unit |
| 26 | 6C5256C525 | Exhaust variable camshaft timing (VCT) unit |
| 27 | 6A2716A271 | Camshaft (intake) |
| 28 | 6A2726A272 | Camshaft (exhaust) |
| 29 | — | Intake camshaft rear bearing cap (part of 6049) |
| 30 | — | Camshaft front bearing cap (part of 6049) |
| 31 | — | Camshaft bearing cap (part of 6049) (8 required) |
| 32 | 6B2976B297 | Variable camshaft timing (VCT) oil control solenoid (2 required) |
| 33 | 9A4139A413 | High-pressure fuel pump drive unit |
| 34 | 12K07312K073 | Camshaft position (CMP) sensor (2 required) |
| 35 | 6K2716K271 | Valve cover |
| 36 | 1240512405 | Spark plug (4 required) |
| 37 | 12A36612A366 | Ignition coil-on-plugs (4 required) |
| 38 | 67506750 | Oil indicator |
Engine — Lower Block Components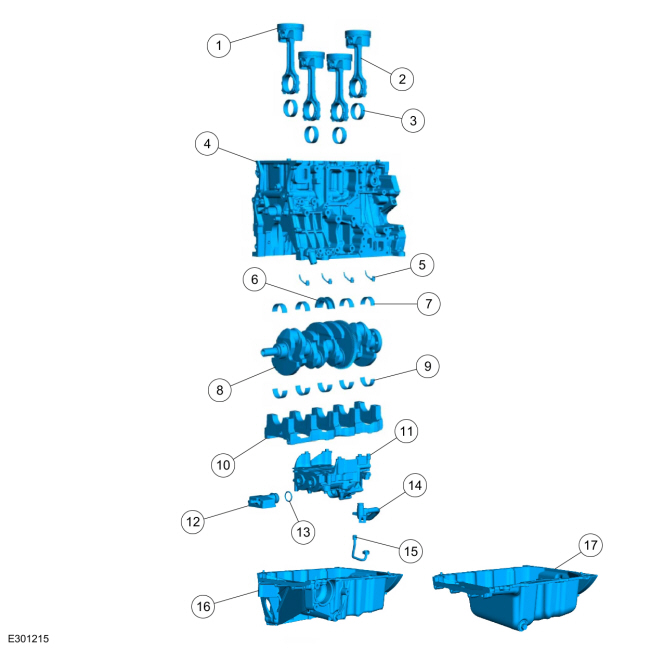 | Item | Part Number | Description |
| --- | --- | --- |
| 1 | 61106110 | Piston (4 required) |
| 2 | 62006200 | Connecting rod (4 required) |
| 3 | 62116211 | Connecting rod bearing (8 required) |
| 4 | 60106010 | Cylinder block |
| 5 | 6K8686K868 | Piston oil cooler valve (4 required) |
| 6 | 63376337 | Cylinder block crankshaft main thrust bearing |
| 7 | 63336333 | Cylinder block crankshaft main bearing (4 required) |
| 8 | 63006300 | Crankshaft assembly |
| 9 | 6A3386A338 | Crankshaft main bearing beam bearing (5 required) |
| 10 | — | Main bearing beam (part of 6010) |
| 11 | 6K3606K360 | Balance shaft and oil pump assembly |
| 12 | 66226622 | Oil pump screen and cover assembly |
| 13 | 66256625 | Oil pump screen and cover assembly O-ring |
| 14 | 67166716 | Oil filter inlet tube |
| 15 | 67186718 | Oil filter outlet tube |
| 16 | 66756675 | Oil pan (AWD) |
| 17 | 66756675 | Oil pan (RWD) |
Overview The 2.3L GTDI engine which may also be described with these terms: GTDI - Gasoline turbocharged direct injection DI - Direct Injection Ti-VCT - Twin independent Variable Camsh..
For basic mechanical concerns, REFER to: Engine (303-00 Engine System - General Information, Diagnosis and Testing). For driveability concerns, Refer to Powertrain Control/Emissions Diagnosis (PC/..
Other information:
Special Tool(s) / General Equipment 204-161 (T97P-1175-A) Installer, HalfshaftTKIT-1997-LM2TKIT-1997-F/FM2TKIT-1997-FLM2 205-D070 (D93P-1175-B) Remover, Front Wheel Hub Removal NOTICE: Suspension fasteners are critical parts that affect the performance of vital components and systems...
Removal NOTE: Removal steps in this procedure may contain installation details. Disconnect the battery/batteries. Refer to: Battery Disconnect and Connect (414-01 Battery, Mounting and Cables, General Procedures). Disconnect the vent hose from the battery...
Categories
WARNING: Airbags can kill or injure a child in a child restraint. Never place a rear-facing child restraint in front of an active airbag. If you must use a forward-facing child restraint in the front seat, move the seat upon which the child restraint is installed all the way back.