Ford Explorer: Engine - 2.3L EcoBoost (201kW/273PS) / Description and Operation - Engine Component View
Engine — External Components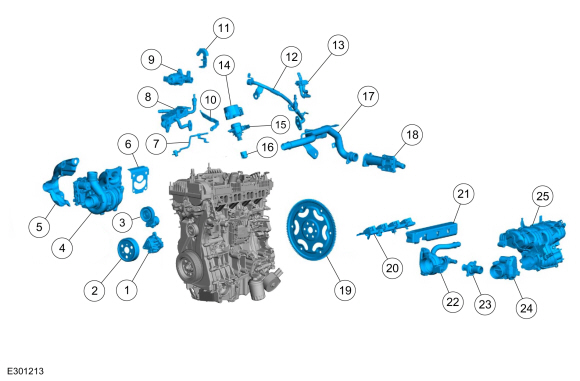 | Item | Part Number | Description |
| --- | --- | --- |
| 1 | 85018501 | Coolant pump |
| 2 | 85098509 | Coolant pump pulley |
| 3 | 6A2286A228 | Accessory drive belt tensioner |
| 4 | 9G4389G438 | Turbocharger |
| 5 | 9G4799G479 | Turbocharger heat shield |
| 6 | 94489448 | Turbocharger gasket |
| 7 | 8B5358B535 | Coolant outlet tube |
| 8 | 9F4649F464 | Exhaust gas recirculation (EGR) cooler |
| 9 | 9D4759D475 | EGR valve |
| 10 | 9F4659F465 | EGR cooler bracket |
| 11 | 9D4849D484 | EGR valve bracket |
| 12 | 9E4699E469 | EGR inlet tube |
| 13 | 9J4339J433 | EGR transducer |
| 14 | 9C3749C374 | High-pressure fuel pump cover |
| 15 | 9D3769D376 | High-pressure fuel pump |
| 16 | 9C5879C587 | High-pressure fuel pump tappet |
| 17 | 85948594 | Coolant tube |
| 18 | 8K5568K556 | Coolant outlet |
| 19 | 63756375 | Flexplate |
| 20 | 9F7979F797 | Fuel rail |
| 21 | 9U5509U550 | Fuel rail shield |
| 22 | 8C5018C501 | Coolant pump adapter |
| 23 | 85758575 | Thermostat assembly |
| 24 | 9E9269E926 | Throttle body |
| 25 | 94249424 | Intake manifold |
Engine — Front and Upper Components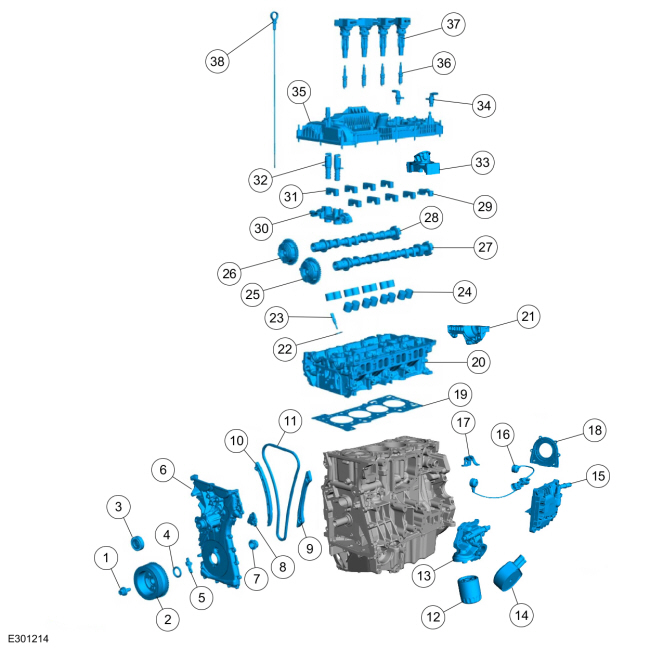 | Item | Part Number | Description |
| --- | --- | --- |
| 1 | 6K3406K340 | Crankshaft pulley bolt |
| 2 | 63166316 | Crankshaft damper |
| 3 | 19A21619A216 | Accessory drive belt idler pulley |
| 4 | 67006700 | Crankshaft front seal |
| 5 | 6C3156C315 | Crankshaft Position (CKP) sensor |
| 6 | 60196019 | Engine front cover |
| 7 | 63066306 | Crankshaft sprocket |
| 8 | 6K2546K254 | Timing chain tensioner |
| 9 | 6K2976K297 | Timing chain guide |
| 10 | 6K2556K255 | Timing chain tensioner arm |
| 11 | 62686268 | Timing chain |
| 12 | 67146714 | Oil filter |
| 13 | 68816881 | Oil filter adapter |
| 14 | 6A6426A642 | Oil cooler, if equipped |
| 15 | 6A7856A785 | Crankcase vent oil separator |
| 16 | 12A69912A699 | Knock sensor (KS) (2 required) |
| 17 | 8K5748K574 | Coolant hose bracket |
| 18 | 6K3186K318 | Crankshaft rear oil seal |
| 19 | 60516051 | Head gasket |
| 20 | 60496049 | Cylinder head |
| 21 | 6P0366P036 | Cylinder head cover assembly |
| 22 | 9A4629A462 | Cylinder head temperature (CHT) sensor heat shield |
| 23 | 6G0046G004 | CHT sensor |
| 24 | 65006500 | Valve tappet (16 required) |
| 25 | 6C5246C524 | Intake variable camshaft timing (VCT) unit |
| 26 | 6C5256C525 | Exhaust variable camshaft timing (VCT) unit |
| 27 | 6A2716A271 | Camshaft (intake) |
| 28 | 6A2726A272 | Camshaft (exhaust) |
| 29 | — | Intake camshaft rear bearing cap (part of 6049) |
| 30 | — | Camshaft front bearing cap (part of 6049) |
| 31 | — | Camshaft bearing cap (part of 6049) (8 required) |
| 32 | 6B2976B297 | Variable camshaft timing (VCT) oil control solenoid (2 required) |
| 33 | 9A4139A413 | High-pressure fuel pump drive unit |
| 34 | 12K07312K073 | Camshaft position (CMP) sensor (2 required) |
| 35 | 6K2716K271 | Valve cover |
| 36 | 1240512405 | Spark plug (4 required) |
| 37 | 12A36612A366 | Ignition coil-on-plugs (4 required) |
| 38 | 67506750 | Oil indicator |
Engine — Lower Block Components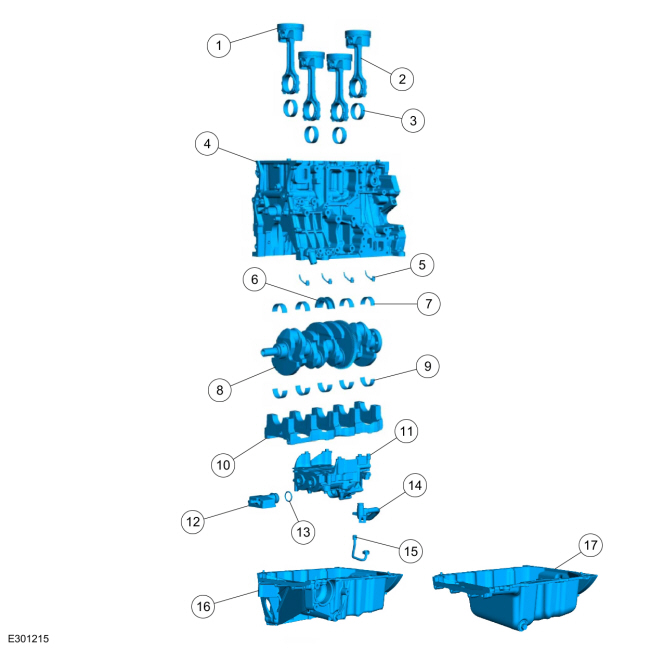 | Item | Part Number | Description |
| --- | --- | --- |
| 1 | 61106110 | Piston (4 required) |
| 2 | 62006200 | Connecting rod (4 required) |
| 3 | 62116211 | Connecting rod bearing (8 required) |
| 4 | 60106010 | Cylinder block |
| 5 | 6K8686K868 | Piston oil cooler valve (4 required) |
| 6 | 63376337 | Cylinder block crankshaft main thrust bearing |
| 7 | 63336333 | Cylinder block crankshaft main bearing (4 required) |
| 8 | 63006300 | Crankshaft assembly |
| 9 | 6A3386A338 | Crankshaft main bearing beam bearing (5 required) |
| 10 | — | Main bearing beam (part of 6010) |
| 11 | 6K3606K360 | Balance shaft and oil pump assembly |
| 12 | 66226622 | Oil pump screen and cover assembly |
| 13 | 66256625 | Oil pump screen and cover assembly O-ring |
| 14 | 67166716 | Oil filter inlet tube |
| 15 | 67186718 | Oil filter outlet tube |
| 16 | 66756675 | Oil pan (AWD) |
| 17 | 66756675 | Oil pan (RWD) |
Overview The 2.3L GTDI engine which may also be described with these terms: GTDI - Gasoline turbocharged direct injection DI - Direct Injection Ti-VCT - Twin independent Variable Camsh..
For basic mechanical concerns, REFER to: Engine (303-00 Engine System - General Information, Diagnosis and Testing). For driveability concerns, Refer to Powertrain Control/Emissions Diagnosis (PC/..
Other information:
Diagnostic Trouble Code (DTC) Chart Diagnostics in this manual assume a certain skill level and knowledge of Ford-specific diagnostic practices. REFER to: Diagnostic Methods (100-00 General Information, Description and Operation). Diagnostic Trouble Code Chart Module DTC Description Action BCM B1323:1..
The cruise controls are on the steering wheel. See Cruise Control. Press the button. The indicator appears in the information display. When the system is on, the color of the indicator changes to indicate the system status. See Adaptive Cruise Control Indicators...
Categories
WARNING: Airbags can kill or injure a child in a child restraint. Never place a rear-facing child restraint in front of an active airbag. If you must use a forward-facing child restraint in the front seat, move the seat upon which the child restraint is installed all the way back.