Ford Explorer: Battery, Mounting and Cables / Specifications
Battery Specifications
2.3L EcoBoost Vehicles
Item
Specification
Voltage
12 Volts
Battery amps rating
70 Ah
Cold Cranking Amps (CCA) measured at -18 C (-0.4 F)
720 Cold Cranking Amps (CCA)
Battery size
H6
Battery type
Absorbed Glass Mat (AGM)
3.0L EcoBoost - Sport/Platinum Vehicles
Item
Specification
Voltage
12 Volts
Battery amps rating
70 Ah
Cold Cranking Amps (CCA) measured at -18 C (-0.4 F)
720 Cold Cranking Amps (CCA)
Battery size
H6
Battery type
Absorbed Glass Mat (AGM)
3.0L EcoBoost - Police Vehicles Base
Item
Specification
Voltage
12 Volts
Battery amps rating
80 Ah
Cold Cranking Amps (CCA) measured at -18 C (-0.4 F)
730 Cold Cranking Amps (CCA)
Battery size
H7
Battery type
Starting, Lighting and Ignition (SLI)
3.0L EcoBoost - Police Vehicles Optional
Item
Specification
Voltage
12 Volts
Battery amps rating
92 Ah
Cold Cranking Amps (CCA) measured at -18 C (-0.4 F)
850 Cold Cranking Amps (CCA)
Battery size
H8
Battery type
Absorbed Glass Mat (AGM)
3.3L Duratec - Non-Hybrid Vehicles
Item
Specification
Voltage
12 Volts
Battery amps rating
70 Ah
Cold Cranking Amps (CCA) measured at -18 C (-0.4 F)
720 Cold Cranking Amps (CCA)
Battery size
H6
Battery type
Absorbed Glass Mat (AGM)
3.3L Duratec Non-Hybrid - Police Vehicles Base
Item
Specification
Voltage
12 Volts
Battery amps rating
70 Ah
Cold Cranking Amps (CCA) measured at -18 C (-0.4 F)
760 Cold Cranking Amps (CCA)
Battery size
H7
Battery type
Starting, Lighting and Ignition (SLI)
3.3L Duratec Non-Hybrid - Police Vehicles Optional
Item
Specification
Voltage
12 Volts
Battery amps rating
92 Ah
Cold Cranking Amps (CCA) measured at -18 C (-0.4 F)
850 Cold Cranking Amps (CCA)
Battery size
H8
Battery type
Absorbed Glass Mat (AGM)
3.3L Duratec Hybrid - Non-Police Vehicles
Item
Specification
Voltage
12 Volts
Battery amps rating
70 Ah
Cold Cranking Amps (CCA) measured at -18 C (-0.4 F)
720 Cold Cranking Amps (CCA)
Battery size
H6
Battery type
Absorbed Glass Mat (AGM)
3.3L Duratec Hybrid - Police Vehicles Base
Item
Specification
Voltage
12 Volts
Battery amps rating
80 Ah
Cold Cranking Amps (CCA) measured at -18 C (-0.4 F)
800 Cold Cranking Amps (CCA)
Battery size
H7
Battery type
Absorbed Glass Mat (AGM)
3.3L Duratec Hybrid - Police Vehicles Optional
Item
Specification
Voltage
12 Volts
Battery amps rating
92 Ah
Cold Cranking Amps (CCA) measured at -18 C (-0.4 F)
850 Cold Cranking Amps (CCA)
Battery size
H8
Battery type
Absorbed Glass Mat (AGM)
Auxiliary Battery - Hybrid Vehicles
Item
Specification
Voltage
12 Volts
Battery amps rating
7.5 Ah
Cold Cranking Amps (CCA) measured at -18 C (-0.4 F)
90 Cold Cranking Amps (CCA)
Battery size
AUX1-A
Battery type
Absorbed Glass Mat (AGM)
Other information:
Special Tool(s) / General Equipment Three Leg Puller Punch Copper Hammer Vise Materials Name Specification Motorcraft® Premium Long-Life GreaseXG-1-E1 ESA-M1C75-B DISASSEMBLY Remove the rear driveshaft...
Symptom Chart A Clutch For A clutch operation, REFER to: A Clutch (307-01A Automatic Transmission - 10-Speed Automatic Transmission – 10R60, Description and Operation). A Clutch Condition Possible Sources Action A clutch does not apply SSA mechanically stuck OFF INSTALL a new solenoid...
Categories
When these locks are set, you cannot open the rear doors from the inside.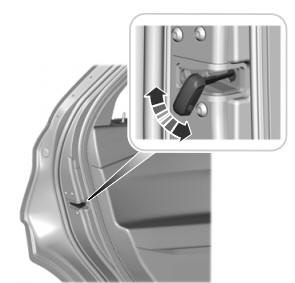 A child safety lock is on the rear edge of each rear door. You must set the child safety lock separately on each door.
Left-Hand Side