Ford Explorer: Battery, Mounting and Cables / Specifications
Battery Specifications
2.3L EcoBoost Vehicles
Item
Specification
Voltage
12 Volts
Battery amps rating
70 Ah
Cold Cranking Amps (CCA) measured at -18 C (-0.4 F)
720 Cold Cranking Amps (CCA)
Battery size
H6
Battery type
Absorbed Glass Mat (AGM)
3.0L EcoBoost - Sport/Platinum Vehicles
Item
Specification
Voltage
12 Volts
Battery amps rating
70 Ah
Cold Cranking Amps (CCA) measured at -18 C (-0.4 F)
720 Cold Cranking Amps (CCA)
Battery size
H6
Battery type
Absorbed Glass Mat (AGM)
3.0L EcoBoost - Police Vehicles Base
Item
Specification
Voltage
12 Volts
Battery amps rating
80 Ah
Cold Cranking Amps (CCA) measured at -18 C (-0.4 F)
730 Cold Cranking Amps (CCA)
Battery size
H7
Battery type
Starting, Lighting and Ignition (SLI)
3.0L EcoBoost - Police Vehicles Optional
Item
Specification
Voltage
12 Volts
Battery amps rating
92 Ah
Cold Cranking Amps (CCA) measured at -18 C (-0.4 F)
850 Cold Cranking Amps (CCA)
Battery size
H8
Battery type
Absorbed Glass Mat (AGM)
3.3L Duratec - Non-Hybrid Vehicles
Item
Specification
Voltage
12 Volts
Battery amps rating
70 Ah
Cold Cranking Amps (CCA) measured at -18 C (-0.4 F)
720 Cold Cranking Amps (CCA)
Battery size
H6
Battery type
Absorbed Glass Mat (AGM)
3.3L Duratec Non-Hybrid - Police Vehicles Base
Item
Specification
Voltage
12 Volts
Battery amps rating
70 Ah
Cold Cranking Amps (CCA) measured at -18 C (-0.4 F)
760 Cold Cranking Amps (CCA)
Battery size
H7
Battery type
Starting, Lighting and Ignition (SLI)
3.3L Duratec Non-Hybrid - Police Vehicles Optional
Item
Specification
Voltage
12 Volts
Battery amps rating
92 Ah
Cold Cranking Amps (CCA) measured at -18 C (-0.4 F)
850 Cold Cranking Amps (CCA)
Battery size
H8
Battery type
Absorbed Glass Mat (AGM)
3.3L Duratec Hybrid - Non-Police Vehicles
Item
Specification
Voltage
12 Volts
Battery amps rating
70 Ah
Cold Cranking Amps (CCA) measured at -18 C (-0.4 F)
720 Cold Cranking Amps (CCA)
Battery size
H6
Battery type
Absorbed Glass Mat (AGM)
3.3L Duratec Hybrid - Police Vehicles Base
Item
Specification
Voltage
12 Volts
Battery amps rating
80 Ah
Cold Cranking Amps (CCA) measured at -18 C (-0.4 F)
800 Cold Cranking Amps (CCA)
Battery size
H7
Battery type
Absorbed Glass Mat (AGM)
3.3L Duratec Hybrid - Police Vehicles Optional
Item
Specification
Voltage
12 Volts
Battery amps rating
92 Ah
Cold Cranking Amps (CCA) measured at -18 C (-0.4 F)
850 Cold Cranking Amps (CCA)
Battery size
H8
Battery type
Absorbed Glass Mat (AGM)
Auxiliary Battery - Hybrid Vehicles
Item
Specification
Voltage
12 Volts
Battery amps rating
7.5 Ah
Cold Cranking Amps (CCA) measured at -18 C (-0.4 F)
90 Cold Cranking Amps (CCA)
Battery size
AUX1-A
Battery type
Absorbed Glass Mat (AGM)
Other information:
Component Location - Lane Keeping System Item Description 1 IPMA. 2 Lane keeping system (LKS) switch (integral to the LH steering column multifunction switch). 3 Lane centering switch (integral to the steering wheel)...
Special Tool(s) / General Equipment Hose Clamp(s) Hose Clamp Remover/Installer Removal NOTICE: During the removal of components, cap, tape or otherwise appropriately protect all openings to prevent the ingress of dirt or other contamination...
Categories
When these locks are set, you cannot open the rear doors from the inside.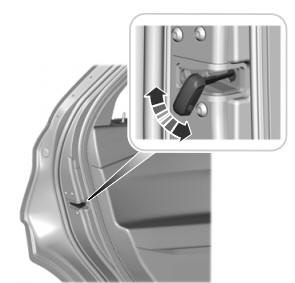 A child safety lock is on the rear edge of each rear door. You must set the child safety lock separately on each door.
Left-Hand Side