Ford Explorer: Seats / Sitting in the Correct Position
WARNING: Sitting improperly, out of position or with the seatback reclined too far can take weight off the seat cushion and affect the decision of the passenger sensing system, resulting in serious injury or death in the event of a crash. Always sit upright against your seat back, with your feet on the floor.
WARNING: Do not recline the seatback too far as this can cause the occupant to slide under the seatbelt, resulting in serious injury in the event of a collision.
WARNING: Do not place objects higher than the top of the seat backrest. Failure to follow this instruction could result in personal injury or death in the event of a sudden stop or crash.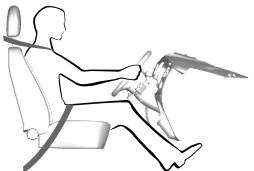 When you use them properly, the seat, head restraint, seatbelt and airbags will provide optimum protection in the event of a crash.
We recommend that you follow these guidelines:
Sit in an upright position with the base of your spine as far back as possible.
Do not recline the seat backrest so that your torso is more than 30° from the upright position.
Adjust the head restraint so that the top of it is level with the top of your head and as far forward as possible.
Make sure that you remain comfortable.
Keep sufficient distance between yourself and the steering wheel. We recommend a minimum of 10 in (25 cm) between your breastbone and the airbag cover.
Hold the steering wheel with your arms slightly bent.
Bend your legs slightly so that you can press the pedals fully.
Position the shoulder strap of the seatbelt over the center of your shoulder and position the lap strap tightly across your hips.
Make sure that your driving position is comfortable and that you can maintain full control of your vehicle.
WARNING: Fully adjust the head restraint before you sit in or operate your vehicle. This will help minimize the risk of neck injury in the event of a crash...
Other information:
Heated Seats WARNING: Use caution when using the heated seat if you are unable to feel pain to your skin because of advanced age, chronic illness, diabetes, spinal cord injury, medication, alcohol use, exhaustion or other physical conditions. The heated seat could cause burns even at low temperatures, especially if used for long periods of time...
Removal WARNING: To prevent the risk of high-voltage shock, always follow precisely all warnings and service instructions, including instructions to depower the system. The high-voltage system utilizes approximately 450 volts DC, provided through high-voltage cables to its components and modules...