Ford Explorer: Supplementary Restraints System / Side Airbags
WARNING: Do not place objects or mount equipment on or near the airbag cover, on the side of the front or rear seatbacks, or in areas that may come into contact with a deploying airbag. Failure to follow these instructions may increase the risk of personal injury in the event of a crash.
WARNING: Do not use accessory seat covers. The use of accessory seat covers may prevent the deployment of the side airbags and increase the risk of injury in an accident.
WARNING: Do not lean your head on the door. The side airbag could injure you as it deploys from the side of the seatback.
WARNING: Do not attempt to service, repair, or modify the supplementary restraint system or associated components. Failure to follow this instruction could result in personal injury or death.
WARNING: If a supplementary restraint system component has deployed, it will not function again. Have the system and associated components inspected as soon as possible. Failure to follow this instruction could result in personal injury or death.
The side airbags are on the outboard side of the seat backrests of the front seats. In certain sideways crashes, the side airbags will be inflated. The airbag was designed to inflate between the door panel and occupant to further enhance the protection provided occupants in side impact crashes.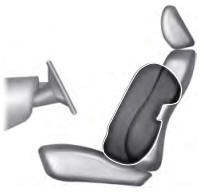 The system consists of the following:
A label or embossed side panel indicating that side airbags are fitted to your vehicle.
Side airbags inside the driver and front passenger seat backrests.
Front passenger sensing system.
Crash sensors and monitoring system with readiness indicator. See Crash Sensors and Airbag Indicator.
The design and development of the side airbag system included recommended testing procedures that were developed by a group of automotive safety experts known as the Side Airbag Technical Working Group. These recommended testing procedures help reduce the risk of injuries related to the deployment of side airbags.
WARNING: Even with advanced restraints systems, properly restrain children 12 and under in a rear seating position. Failure to follow this could seriously increase the risk of injury or death...
Driver and passenger knee airbags are located under or within the instrument panel. During a crash, the restraints control module may activate the driver and passenger knee airbags (individually o..
Other information:
Removal Remove the climate control housing. Refer to: Climate Control Housing (412-00 Climate Control System - General Information, Removal and Installation). Remove the screws and the air inlet door actuator. Disconnect the electrical connector...
Removal Push the stop tabs inwards and fully lower the glove compartment. Remove the glove compartment check strap. Remove the screws and lower the cabin air filter door. Remove the cabin air filter...