Ford Explorer: Towing / Recommended Towing Weights
Note: Do not exceed the trailer weight for your vehicle configuration listed in the chart below.
Note: Be sure to take into consideration trailer frontal area. Do not exceed 20 ft² (1.86 m²) if your vehicle can tow a class I trailer or 55 ft² (5.11 m²) if your vehicle can tow a class III trailer weighing more than 5,000 lb (2,267 kg).
Note: For high altitude operation, reduce the gross combined weight by 2% per 1,000 ft (300 m) starting at the 1,000 ft (300 m) elevation point.
Note: Certain states require electric trailer brakes for trailers over a specified weight. Be sure to check state regulations for this specified weight. The maximum trailer weights listed may be limited to this specified weight, as the vehicle's electrical system may not include the wiring connector needed to activate electric trailer brakes.
Your vehicle may tow a trailer provided the maximum trailer weight is less than or equal to the maximum trailer weight listed for your vehicle configuration on the following chart.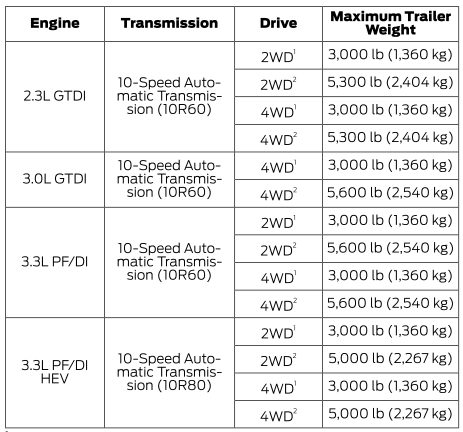 1 Without Trailer Tow Package.
2 With Trailer Tow Package.
WARNING: Turning off trailer sway control increases the risk of loss of vehicle control, serious injury or death. Ford does not recommend disabling this feature except in situations where speed re..
Follow these guidelines for safe towing: Do not tow a trailer until you drive your vehicle at least 1,000 mi (1,600 km). Consult your local motor vehicle laws for towing a trailer...
Other information:
Symptom Chart Torque Converter Clutch (TCC) For torque converter operation, REFER to: Torque Converter (307-01A Automatic Transmission - 10-Speed Automatic Transmission – 10R60, Description and Operation). Torque Converter Clutch (TCC) Condition Possible Sources Action TCC does not apply TCC solenoid mechanically stuck OFF..
Special Tool(s) / General Equipment Interior Trim Remover Removal NOTE: Removal steps in this procedure may contain installation details. NOTE: LH lamp assembly shown, RH lamp assembly is similar. Remove the loadspace trim panel...