Ford Explorer: Engine System - General Information / General Procedures - Cylinder Block Distortion
Special Tool(s) / General Equipment
Check
NOTE: Refer to the appropriate Section 303-01 for the specification.
NOTE: Use a Straightedge that is calibrated by the manufacturer to be flat within 0.005 mm (0.0002 in) per running foot of length, such as Snap-On® GA438A or equivalent. For example, if the Straightedge is 61 cm (24 in) long, the machined edge must be flat within 0.010 mm (0.0004 in) from end to end.

Use a Straightedge and a Feeler Gauge Set to inspect the cylinder block for flatness.
Use the General Equipment: Feeler Gauge
Special Tool(s) / General Equipment 100-001 (T50T-100-A) Slide Hammer Materials Name Specification Motorcraft® Threadlock and SealerTA-25-B - Repair All core plu..
Check NOTE: Refer to the appropriate Section 303-01 for the specification. Measure the cylinder bore at the top, middle and bottom of piston ring travel in 2 directions as indicated...
Other information:
WARNING: Never inflate a tire that has been run flat without first removing the tire from the wheel to inspect for damage. A damaged tire can fail during inflation. Failure to follow this instruction may result in serious personal injury...
Removal NOTE: Removal steps in this procedure may contain installation details. Remove the steering column. Refer to: Steering Column (211-04 Steering Column, Removal and Installation). NOTE: Note the position of the component before removal...
Categories

Push the lever up or down to operate the windshield wipers.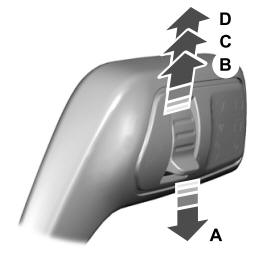 A - Single wipe.