Ford Explorer: Instrument Panel and Interior Switches Illumination / Description and Operation - Instrument Panel and Interior Switches Illumination - Overview
Overview
Dimmable Illumination
Dimmable illumination provides backlighting to switches and control components when the parking lamps are on. The instrument panel dimmer switch is used to increase or decrease the level of intensity for the dimmable backlit components. The BCM is the master module that controls the dimmable illumination.
Dimmable backlit switches and components are:
Headlamp switch
EPB switch
Overhead console switches
USB hub
Start-stop switch
4X4 switch
Drive mode switch
High idle switch (police package)
Lighting/siren control module (police package)
Steering wheel switches
Emergency call switch
Power window switches
Door lock switches
When the autolamp feature activates during the daytime, the message center illumination remains at full intensity and can not be dimmed using the instrument panel dimmer switch. If the vehicle travels under a bridge or through a tunnel and a low level of ambient light is detected, the illumination brightness of the message center changes to the last level set by BCM. The message center illumination changes back to full intensity when the intense ambient light is restored.
Non-Dimmable Illumination
The non-dimmable illumination is on when the delayed accessory is active. The delayed accessory is active:
When the ignition is on.
For up to 10 minutes after the ignition is cycled from on to off and a front door is not opened.
The second row rear seat control, third row rear seat control and liftgate release switches are non-dimmable.
System Operation System Diagram - Networked Illumination Item Description 1 APIM 2 Light Sensor 3 ACM 4 IPC 5 FDIM 6 DDM ..
Other information:
Check Turn the ignition ON, engine OFF. Set the parking brake. Place the gearshift in REVERSE (R) for rear parking aid sensors. Place the gearshift in DRIVE (D) for front parking aid sensors...
Charging WARNING: Before beginning any service procedure in this section, refer to Safety Warnings in section 100-00 General Information. Failure to follow this instruction may result in serious personal injury. NOTE: Batteries will discharge due to normal parasitic key off-loads when the vehicle is on a dealer lot or parked by the customer for an extended period of time...
Categories

Push the lever up or down to operate the windshield wipers.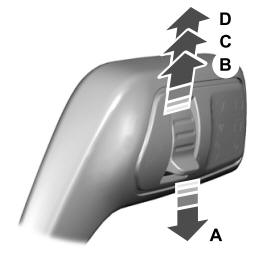 A - Single wipe.