Ford Explorer: Electronic Engine Controls - 2.3L EcoBoost (201kW/273PS) / Description and Operation - Electronic Engine Controls - Component Location
Electronic Engine Controls- Front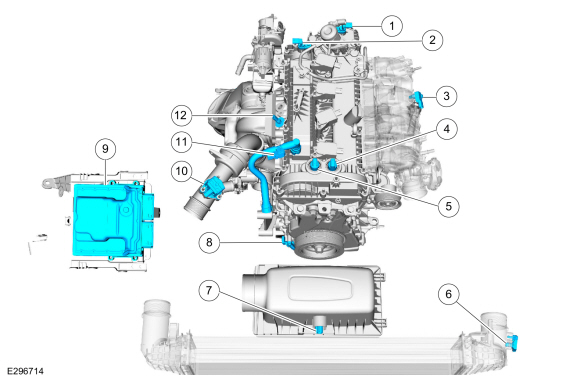 | Item | Description |
| --- | --- |
| 1 | CMP \Intake sensor |
| 2 | CMP Exhaust sensor |
| 3 | MAPT sensor |
| 4 | Variable Camshaft Timing VCT Oil Control Solenoid Exhaust |
| 5 | Variable Camshaft Timing VCT Oil Control Solenoid Intake |
| 6 | Turbocharger Boost Pressure Sensor |
| 7 | IAT sensor |
| 8 | CKP sensor |
| 9 | PCM |
| 10 | Turbocharger Bypass Valve |
| 11 | Crankcase pressure sensor |
| 12 | Cylinder Head Temperature 2 (CHT2) sensor |
Electronic Engine Controls - LH side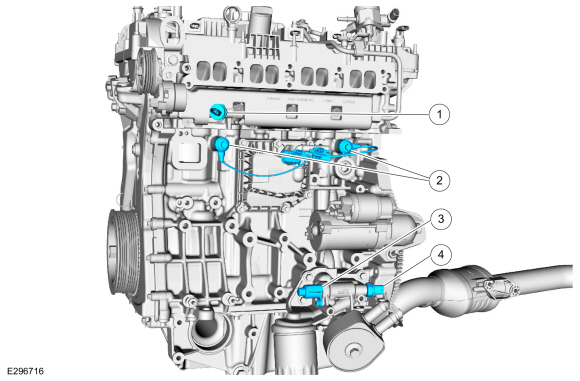 | Item | Description |
| --- | --- |
| 1 | FRP sensor |
| 2 | KS sensors |
| 3 | Oil Pressure Control Solenoid |
| 4 | EOP sensor |
Electronic engine Controls - Rear of engine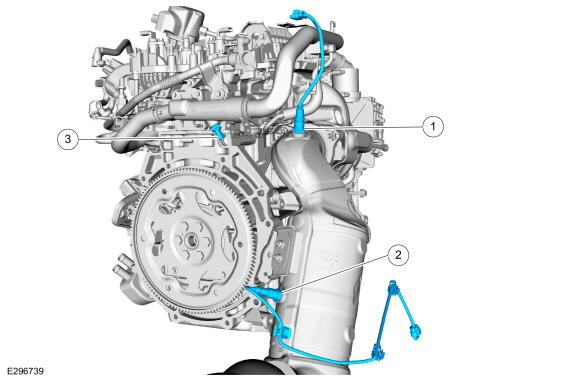 | Item | Description |
| --- | --- |
| 1 | HO2S (HO2S) sensor |
| 2 | Catalyst Monitor sensor |
| 3 | ECT sensor |
Overview The EEC system provides optimum control of the engine through the enhanced capability of the powertrain control module (PCM). The EEC system also has an on board diagnostic (OBD) monitori..
Other information:
Special Tool(s) / General Equipment Fluid Suction Gun Fluid Container Materials Name Specification Motorcraft® Premium Windshield Wash Concentrate with BitterantZC-32-B2 WSS-M14P19-A Removal NOTE: Removal steps in this procedure may contain installation details...
WARNING: Airbags do not inflate slowly or gently, and the risk of injury from a deploying airbag is the greatest close to the trim covering the airbag module. WARNING: All occupants of your vehicle, including the driver, should always properly wear their seatbelts, even when an airbag supplemental restraint system is provided...
Categories
WARNING: Position the seatbelt height adjuster so that the seatbelt rests across the middle of your shoulder. Failure to adjust the seatbelt correctly could reduce its effectiveness and increase the risk of injury in a crash.