Ford Explorer: Electronic Engine Controls - 2.3L EcoBoost (201kW/273PS) / Description and Operation - Electronic Engine Controls - Component Location
Electronic Engine Controls- Front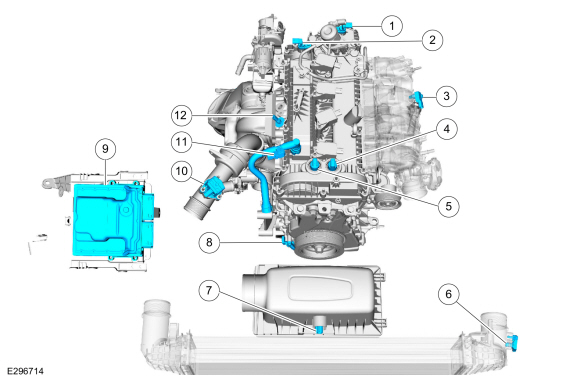 | Item | Description |
| --- | --- |
| 1 | CMP \Intake sensor |
| 2 | CMP Exhaust sensor |
| 3 | MAPT sensor |
| 4 | Variable Camshaft Timing VCT Oil Control Solenoid Exhaust |
| 5 | Variable Camshaft Timing VCT Oil Control Solenoid Intake |
| 6 | Turbocharger Boost Pressure Sensor |
| 7 | IAT sensor |
| 8 | CKP sensor |
| 9 | PCM |
| 10 | Turbocharger Bypass Valve |
| 11 | Crankcase pressure sensor |
| 12 | Cylinder Head Temperature 2 (CHT2) sensor |
Electronic Engine Controls - LH side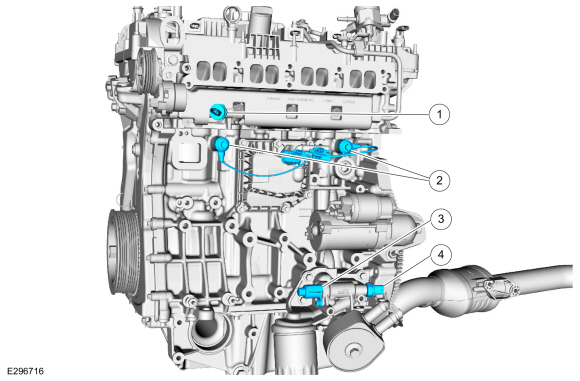 | Item | Description |
| --- | --- |
| 1 | FRP sensor |
| 2 | KS sensors |
| 3 | Oil Pressure Control Solenoid |
| 4 | EOP sensor |
Electronic engine Controls - Rear of engine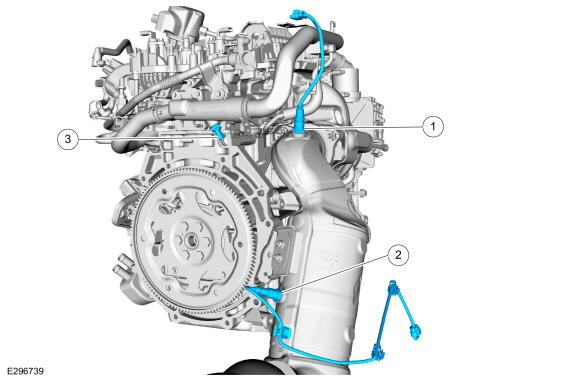 | Item | Description |
| --- | --- |
| 1 | HO2S (HO2S) sensor |
| 2 | Catalyst Monitor sensor |
| 3 | ECT sensor |
Overview The EEC system provides optimum control of the engine through the enhanced capability of the powertrain control module (PCM). The EEC system also has an on board diagnostic (OBD) monitori..
Other information:
Before exporting your vehicle to a foreign country, contact the appropriate foreign embassy or consulate. These officials can inform you of local vehicle registration regulations and where to find unleaded fuel or petrol/gas engines or the proper sulfur fuel for diesel engines...
Overview The diagnostic process for each transmission concern will vary depending on the symptoms and condition of the vehicle. The diagnostic process below is an efficient method to collect as much data as possible about the concern before performing a repair or removing the transmission from the vehicle for teardown and further inspection...
Categories
WARNING: Position the seatbelt height adjuster so that the seatbelt rests across the middle of your shoulder. Failure to adjust the seatbelt correctly could reduce its effectiveness and increase the risk of injury in a crash.