Ford Explorer: Adaptive Cruise Control / Adaptive Cruise Control Limitations - Vehicles With: Adaptive Cruise Control With Lane Centering
Adaptive cruise control limitations apply to lane centering unless stated otherwise or contradicted by a lane centering limitation. See Adaptive Cruise Control Limitations.
The system may not correctly operate in any of the following conditions:
Your vehicle is not centered in the lane.
The lane is too narrow or wide.
The system does not detect at least one lane marking or when lanes merge or split.
You switch the direction indicator on.
Limited steering torque input is applied.
Areas under construction or new infrastructure.
When modifications to the steering system have been made.
When using a spare tire.
Note: The assistance steering torque is limited and may not be sufficient for all driving situations.
Note: In exceptional conditions, the system may deviate from the center line.
Categories
4 Inch Display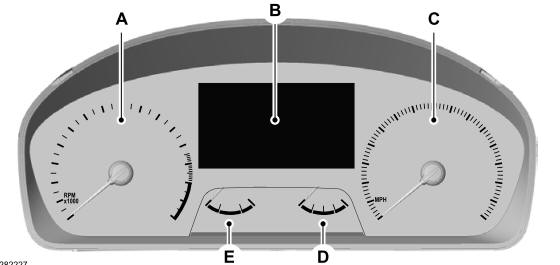 A - Tachometer.
B - Information display.
C - Speedometer.
D - Fuel gauge.
E - Engine coolant temperature gauge.