Ford Explorer: Driver and Passenger Airbags / Proper Driver and Front Passenger Seating Adjustment
WARNING: National Highway Traffic Safety Administration (NHTSA) recommends a minimum distance of at least 10 in (25 cm) between an occupant's chest and the driver airbag module.
To properly position yourself away from the airbag:
Move your seat to the rear as far as you can while still reaching the pedals comfortably.
Recline the seat slightly (one or two degrees) from the upright position.
After all occupants have adjusted their seats and put on seatbelts, it is very important that they continue to sit properly. A properly seated occupant sits upright, leaning against the seatback, and centered on the seat cushion, with their feet comfortably extended on the floor. Sitting improperly can increase the chance of injury in a crash event. For example, if an occupant slouches, lies down, turns sideways, sits forward, leans forward or sideways, or puts one or both feet up, the chance of injury during a crash is greatly increased.
WARNING: Do not place your arms on the airbag cover or through the steering wheel. Failure to follow this instruction could result in personal injury...
WARNING: Airbags can kill or injure a child in a child restraint. Never place a rear-facing child restraint in front of an active airbag. If you must use a forward-facing child restraint in the fr..
Other information:
Special Tool(s) / General Equipment Feeler Gauge Check NOTE: Refer to the appropriate Section 303-01 for the specification. NOTE: Use a Straightedge that is calibrated by the manufacturer to be flat within 0.005 mm (0.0002 in) per running foot of length, such as Snap-On® GA438A or equivalent...
Special Tool(s) / General Equipment Interior Trim Remover Removal WARNING: The following procedure describes critical repair steps required for correct seat component installation. Follow all notes and steps carefully. Do not place any objects between the seat components and the body of the vehicle, nor any objects within a joint internal to the seat structure...
Categories
4 Inch Display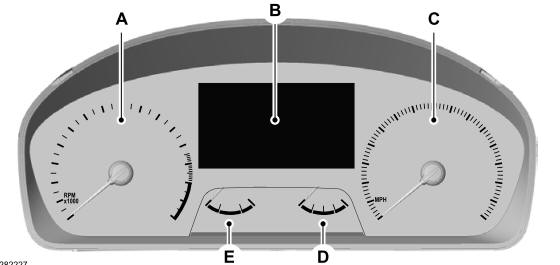 A - Tachometer.
B - Information display.
C - Speedometer.
D - Fuel gauge.
E - Engine coolant temperature gauge.