Ford Explorer: Scheduled Maintenance / Normal Scheduled Maintenance
Intelligent Oil-Life Monitor™
Your vehicle has an Intelligent Oil-Life Monitor that determines when you should change the engine oil based on how your vehicle is used. By using several important factors in its calculations, the monitor helps reduce the cost of owning your vehicle and reduces environmental waste at the same time.
This means you do not have to remember to change the oil on a mileage-based schedule. Your vehicle lets you know when an oil change is due by displaying a message in the information display.
The following table provides examples of vehicle use and its impact on oil change intervals. It is a guideline only. Actual oil change intervals depend on several factors and generally decrease with severity of use.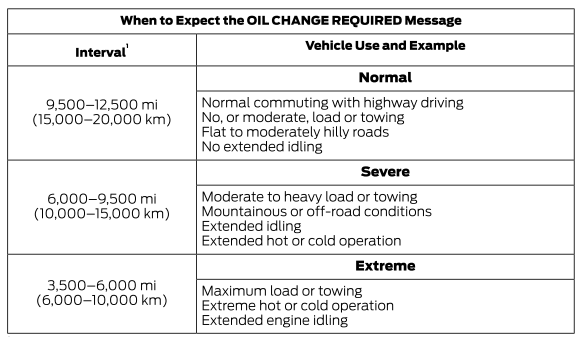 1 Hybrid vehicles may achieve longer distances between oil changes, but do not exceed the 1 year maximum oil change interval. Remaining oil life can be accessed through the information display. See Information Displays.
Normal Maintenance Intervals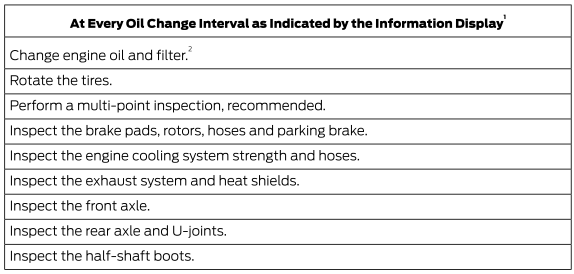 1 Do not exceed one year or 12,500 mi (20,000 km) between service intervals.
2 Reset the Intelligent Oil-Life Monitor after engine oil and filter changes. See Engine Oil Check.

1 Perform this maintenance item every 3 years. Do not exceed the designated time for the interval.
2 Brake fluid servicing requires special equipment available at your authorized dealer.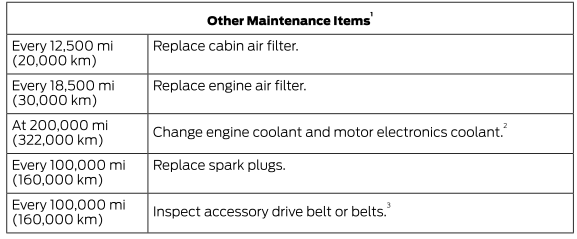 1 Perform these maintenance items within 3,000 mi (4,800 km) of the last engine oil and filter change. Do not exceed the designated distance for the interval.
2 Initial replacement at 10 years or 200,000 mi (322,000 km), then every five years or 100,000 mi (160,000 km).
3 After initial inspection, inspect every other oil change until replaced.
4 If not replaced within the last 100,000 mi (160,000 km).
Why Maintain Your Vehicle? Carefully following the maintenance schedule helps protect against major repair expenses resulting from neglect or inadequate maintenance and may help to increase the v..
If you operate your vehicle primarily in any of the following conditions, you need to perform extra maintenance as indicated. If you operate your vehicle occasionally under any of these conditions..
Other information:
Special Tool(s) / General Equipment Interior Trim Remover Removal NOTE: Removal steps in this procedure may contain installation details. Using a non-marring tool release and position the light sensor. Use the General Equipment: Interior Trim Remover Disconnect the electrical connector and remove the light sensor...
Special Tool(s) / General Equipment 303-096 (T74P-6150-A) Installer, Camshaft Front Oil SealTKIT-2009TC-F 303-1521Alignment Tool, Crankshaft Position SensorTKIT-2010C-FLM 303-1685Alignment Tool, Camshaft 303-1689Holding Tool, Crank Damper 303-409 (T92C-6700-CH) Remover, Crankshaft SealTKIT-1992-FH/FMH/FLMHTKIT-1993-LMH/MH 303-507Timing Peg, Crankshaft ..