Ford Explorer: Scheduled Maintenance / General Maintenance Information
Why Maintain Your Vehicle?
Carefully following the maintenance schedule helps protect against major repair expenses resulting from neglect or inadequate maintenance and may help to increase the value of your vehicle when you sell or trade it. Keep all receipts for completed maintenance with your vehicle.
We have established regular maintenance intervals for your vehicle based upon rigorous testing. It is important that you have your vehicle serviced at the proper times. These intervals serve two purposes: one is to maintain the reliability of your vehicle and the second is to keep your cost of owning your vehicle down.
It is your responsibility to have all scheduled maintenance performed and to make sure that the materials used meet the specifications identified in this owner's manual. See Capacities and Specifications.
Failure to perform scheduled maintenance invalidates warranty coverage on parts affected by the lack of maintenance.
Why Maintain Your Vehicle at Your Dealership?
Factory-Trained Technicians
Service technicians participate in extensive factory-sponsored certification training to help them become experts on the operation of your vehicle. Ask your dealership about the training and certification their technicians have received.
Our Genuine Replacement Parts
Dealerships stock our genuine manufactured or our authorized re-manufactured replacement parts. These parts meet or exceed our specifications. Parts installed at your dealership carry a nationwide 24-month or unlimited mile (kilometer) parts and labor limited warranty.
If you do not use our authorized parts they may not meet our specifications and depending on the part, it could affect emissions compliance.
Convenience
Many dealerships have extended evening and Saturday hours to make your service visit more convenient and they offer one stop shopping. They can perform any services that are required on your vehicle, from general maintenance to collision repairs.
Note: Not all dealers have extended hours or body shops. Please contact your dealer for details.
Protecting Your Investment
Maintenance is an investment that pays dividends in the form of improved reliability, durability and resale value. To maintain the proper performance of your vehicle and its emission control systems, make sure you have scheduled maintenance performed at the designated intervals.
Your vehicle has an Intelligent Oil-Life Monitor system; a message appears in the information display at the proper oil change interval. This interval may be up to one year or 10,000 mi (16,000 km), hybrid vehicles may exceed 10,000 mi (16,000 km).
When the oil change message appears in the information display, it is time for an oil change. Make sure you perform the oil change within two weeks or 500 mi (800 km) of the message appearing. Make sure you reset the Intelligent Oil-Life Monitor after each oil change. See Oil Change Indicator Reset.
If your information display resets prematurely or becomes inoperative, you should perform the oil change interval at six months or 5,000 mi (8,000 km) from your last oil change. Never exceed one year or 10,000 mi (16,000 km) between oil change intervals,
Your vehicle is very sophisticated and built with multiple, complex performance systems. Every manufacturer develops these systems using different specifications and performance features. That is why it is important to rely upon your dealership to properly diagnose and repair your vehicle.
We have recommended maintenance intervals for various parts and component systems based upon engineering testing. We rely upon this testing to determine the most appropriate mileage for replacement of oils and fluids to protect your vehicle at the lowest overall cost to you and recommends against maintenance schedules that deviate from the scheduled maintenance information.
We strongly recommend the use of only our genuine manufactured or our authorized re-manufactured replacement parts engineered for your vehicle.
Additives and Chemicals
This owner's manual and our Workshop Manual list the recommended additives and chemicals for your vehicle. We do not recommend using chemicals or additives not approved by us as part of your vehicle's normal maintenance. Please consult your warranty information.
Oils, Fluids and Flushing
In many cases, fluid discoloration is a normal operating characteristic and, by itself, does not necessarily indicate a concern or that the fluid needs to be changed. However, a qualified expert, such as the factory-trained technicians at your dealership, should inspect discolored fluids that also show signs of overheating or foreign material contamination immediately.
Make sure to change your vehicle's oils and fluids at the specified intervals or in conjunction with a repair. Flushing is a viable way to change fluid for many vehicle sub-systems during scheduled maintenance. It is critical that systems are flushed only with new fluid that is the same as that required to fill and operate the system or using our approved flushing chemical.
Owner Checks and Services
Make sure you perform the following basic maintenance checks and inspections every month or at six-month intervals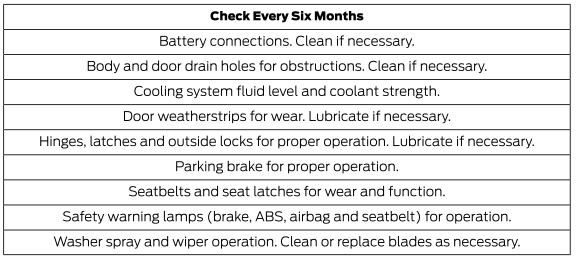 Multi-Point Inspection
In order to keep your vehicle running right, it is important to have the systems on your vehicle checked regularly. This can help identify potential issues and prevent major problems. We recommend having the following multi-point inspection performed at every scheduled maintenance interval to help make sure your vehicle keeps running great.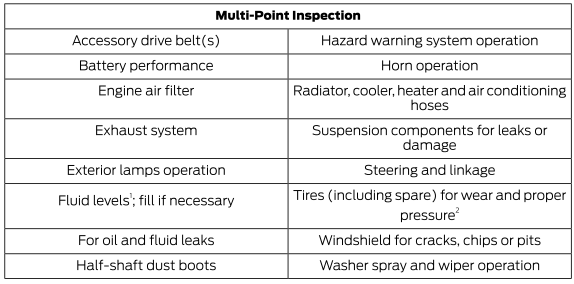 1 Brake, coolant recovery reservoir, automatic transmission and window washer
2 f your vehicle is equipped with a temporary mobility kit, check the tire sealant expiration Use By date on the canister. Replace as needed.
Be sure to ask your dealership service advisor or technician about the multi-point vehicle inspection. It is a comprehensive way to perform a thorough inspection of your vehicle. Your checklist gives you immediate feedback on the overall condition of your vehicle.
Intelligent Oil-Life Monitor™ Your vehicle has an Intelligent Oil-Life Monitor that determines when you should change the engine oil based on how your vehicle is used...
Other information:
Removal NOTE: Removal steps in this procedure may contain installation details. Remove the steering wheel. Refer to: Steering Wheel (211-04 Steering Column, Removal and Installation). Remove the bolts and the steering wheel rear cover...
Removal WARNING: The following procedure describes critical repair steps required for correct seat component installation. Follow all notes and steps carefully. Do not place any objects between the seat components and the body of the vehicle, nor any objects within a joint internal to the seat structure...