Ford Explorer: Seatbelt Systems / General Procedures - Seatbelt Cleaning
Cleaning

WARNING: Do not bleach or re-dye the seatbelt webbing, as the webbing may weaken. Failure to follow this instruction may increase the risk of serious personal injury or death in a crash.
Refer to the owner's literature for information on seatbelt care and the recommended cleaning solution to use. Follow the manufacturer's instructions provided with the cleaning solution.

Repair NOTE: If the seatbelt webbing does not extract from the seatbelt retractor from the stowed position, this may be due to a normal condition which happens when the seatbelt retracts at a hig..
Inspection WARNING: All seatbelt components must be inspected and corrected as part of any collision repair. Inspect all seatbelt components as prescribed by Seatbelt Procedure After a C..
Other information:
Principle of Operation The traction control system helps avoid drive wheel spin and loss of traction. If your vehicle begins to slide, the system applies the brakes to individual wheels and, when needed, reduces engine power at the same time. If the wheels spin when accelerating on slippery or loose surfaces, the system reduces engine power in order to increase traction...
Removal WARNING: The following procedure describes critical repair steps required for correct seat component installation. Follow all notes and steps carefully. Do not place any objects between the seat components and the body of the vehicle, nor any objects within a joint internal to the seat structure...
Categories

Push the lever up or down to operate the windshield wipers.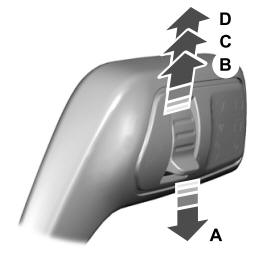 A - Single wipe.