Ford Explorer: Supplemental Restraint System / Description and Operation - Airbag and Seatbelt Pretensioner Supplemental Restraint System (SRS) - Component Location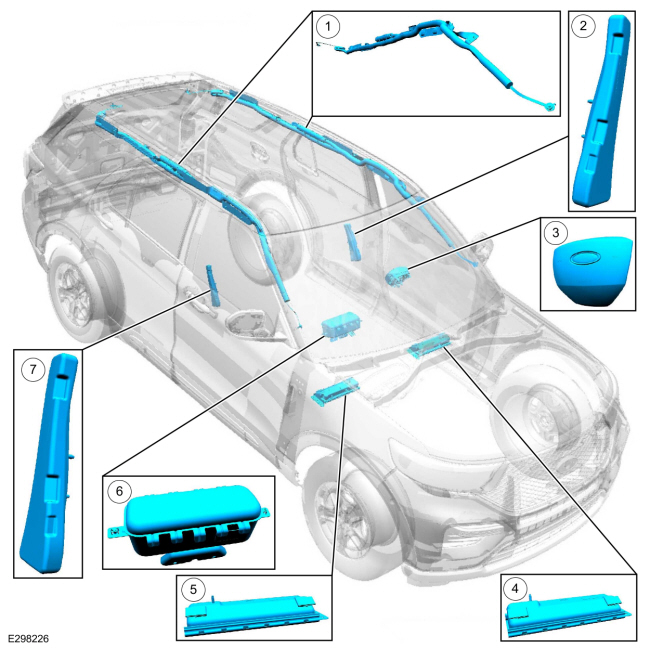 | Item | Description |
| --- | --- |
| 1 | Driver and passenger side curtain airbag |
| 2 | Driver side airbag |
| 3 | Driver airbag |
| 4 | Driver knee airbag (if equipped) |
| 5 | Passenger knee airbag |
| 6 | Passenger airbag and (if equipped) canister vent |
| 7 | Passenger side airbag |
| Item | Description |
| --- | --- |
| 1 | OCSM (includes OCS sensor and gel-filled bladder) |
| 2 | Overhead console (includes PAD indicator) |
| 3 | RCM |
| 4 | Driver and passenger C-pillar side impact sensors |
| 5 | Driver front door side impact sensor |
| 6 | Clockspring |
| 7 | Seat position sensors |
| 8 | Driver and passenger front impact severity sensors |
| 9 | Passenger front door side impact sensor |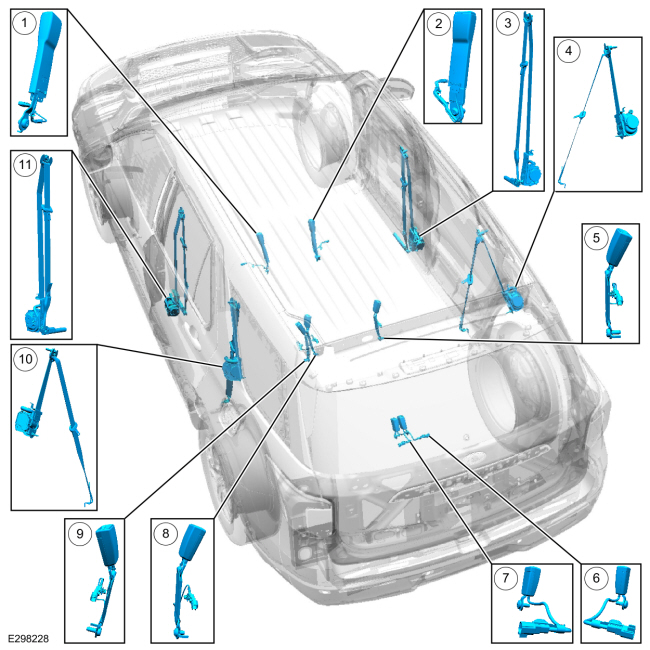 | Item | Description |
| --- | --- |
| 1 | Driver seatbelt buckle (includes buckle sensor) |
| 2 | Front passenger seatbelt buckle (includes buckle sensor and Belt Tension Sensor (BTS)) |
| 3 | Front passenger seatbelt retractor (includes retractor pretensioner, retractor load limiter and anchor pretensioner) |
| 4 | Second row passenger side outer seatbelt retractor (includes retractor pretensioner) |
| 5 | Second row passenger side outer seatbelt buckle (includes seatbelt buckle switch) |
| 6 | Third row passenger side seatbelt buckle (includes seatbelt buckle switch) |
| 7 | Third row driver side seatbelt buckle (includes seatbelt buckle switch) |
| 8 | Second row center seatbelt buckle (if equipped) (includes seatbelt buckle switch) |
| 9 | Second row driver side outer seatbelt buckle (includes seatbelt buckle switch) |
| 10 | Second row driver side outer seatbelt retractor (includes retractor pretensioner) |
| 11 | Driver seatbelt retractor (includes retractor pretensioner) |
Overview The RCM continually receives and monitors inputs from the OCSM and various other hard-wired switches and sensors. If the RCM detects a sudden vehicle deceleration and/or lateral deceleratio..
Other information:
Special Tool(s) / General Equipment 307-346 (T97T-7902-A) Retainer, Torque ConverterTKIT-1998-LM (NavigatoR)TKIT-1997-F/FLM/LT Magnetic Socket Transmission Jack Wooden Block Materials Name Specification Motorcraft® Multi-Purpose Grease SprayXL-5-A ESB-M1C93-B Motorcraft® MERCON® ULV Automatic Transmission FluidXT-12-QULV WSS-M2C949-A, MERCON®..
Removal NOTE: Removal steps in this procedure may contain installation details. Push the stop tabs inwards and fully lower the glove compartment. Remove the glove compartment check strap. Remove the bolts and the glove compartment assembly...
Categories
Use the key blade to start your vehicle and unlock or lock the driver door from outside your vehicle. The integrated keyhead transmitter functions as a programmed ignition key that operates all the locks and starts your vehicle, as well as a remote control.