Ford Explorer: Load Carrying / Roof Racks and Load Carriers (If Equipped)
WARNING: When loading the roof racks, we recommend you evenly distribute the load, as well as maintain a low center of gravity. Loaded vehicles, with higher centers of gravity, may handle differently than unloaded vehicles. Take extra precautions, such as slower speeds and increased stopping distance, when driving a heavily loaded vehicle.
For correct roof rack system function, you must place loads directly on crossbars affixed to the roof rack side rails. When using the roof rack system, we recommend you use Ford Genuine Accessory crossbars designed specifically for your vehicle.
Make sure that you securely fasten the load. Check the tightness of the load before driving and at each fuel stop.
Note: Never place loads directly on the roof panel. The roof panel is not designed to directly carry a load.
Maximum Recommended Load Amounts
Note: The maximum recommended load is based on the load being evenly distributed on the crossbars.

Adjusting the Crossbar (If Equipped)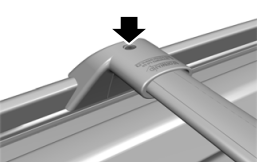 Loosen the crossbar bolt by using the supplied tool or similar tool.
Move the crossbar to the new position.
Tighten the bolt by using the supplied tool or similar tool.
Note: For less wind noise and better aerodynamics, only install the crossbars when you need them for carrying cargo.
WARNING: Make sure that the posts are properly latched in mounting features. The cover may cause injury in a sudden stop or accident if it is not securely installed...
Vehicle Loading - with and without a Trailer This section guides you in the proper loading of your vehicle, trailer, or both. Keep your loaded vehicle weight within its design rating capability, wi..
Other information:
Engine Information NOTE: When repairing engines, all parts must be contamination free. If contamination/foreign material is present when repairing an engine, premature engine failure may occur. NOTE: Specifications show the expected minimum or maximum condition...
Removal NOTICE: During the removal of components, cap, tape or otherwise appropriately protect all openings to prevent the ingress of dirt or other contamination. Remove protective materials prior to installation. NOTE: Removal steps in this procedure may contain installation details...
Categories
WARNING: Airbags can kill or injure a child in a child restraint. Never place a rear-facing child restraint in front of an active airbag. If you must use a forward-facing child restraint in the front seat, move the seat upon which the child restraint is installed all the way back.