Ford Explorer: Steering Wheel / Cruise Control - Vehicles With: Cruise Control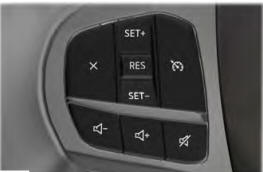 See About Cruise Control.
Other information:
Inspection WARNING: All seatbelt components must be inspected and corrected as part of any collision repair. Inspect all seatbelt components as prescribed by Seatbelt Procedure After a Collision found in Section 501-20A General Procedures of this manual...
Once you select this option, the system returns you to the main audio screen. The current audio information appears on the screen. The following buttons are also available: You can use the forward, reverse, pause or play buttons to control the audio playback...
Categories
Use the key blade to start your vehicle and unlock or lock the driver door from outside your vehicle. The integrated keyhead transmitter functions as a programmed ignition key that operates all the locks and starts your vehicle, as well as a remote control.